Qatar Was No Match To Equador
Going Two Nil At Home, Is Bad
Qatar Fails To Win Opening Game
SQatar has been able to prepare for this moment for almost twelve years. The clock has been ticking ever since the then president of the world football association, Joseph Blatter, opened an envelope on December 2, 2010 and held up the note with the name of the emirate. Now the eleven will play a game at a World Cup for the first time. In sporting terms, Qatar has never qualified for a final round. After a relatively short-term postponement to this Sunday (5:00 p.m. CET in the FAZ live ticker for the World Cup, on ZDF and on MagentaTV), the opening game is against Ecuador.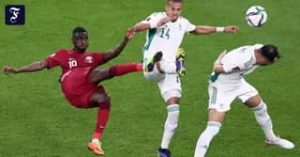 But how good is Qatar actually? It is one of the most exciting questions that arises at the beginning of this World Cup. Because the tournament is not only highly controversial, but also simply unpredictable. Daniel Memmert and Fabian Wunderlich try anyway. Since 2014, their predictions have appeared at every major tournament. Over the years they have refined and expanded the calculations. There is no guarantee that everything will turn out the way they predict based on their calculation model, because chance plays too much of a role in football for that. Nevertheless, the forecasts are trend-setting.
Advertising

For the first time, they are showing a database for the predictions of the individual games that has never existed before. This gives everyone the chance to prioritize exactly the aspect that seems personally important. Prognosis diagrams not only show the probability of a team winning, drawing and losing in a game. The placement at the 2018 World Cup, the place in the world rankings, the total market value and the probabilities from all the parameters are now also specified. There has never been a broader basis for a game.
This is the first world cup ever to be hosted in a Middle East country since inception of the tournament in 1930.