New Film On Uganda Launched
Bobi Wine Exposes Uganda To International Community
Robert Kyagulanyi Ssentamu, the 2021 Uganda's presidential contender, took to his social media platforms to share his glee and inform his followers how elated he was  to attend the World 79th  Film Festival in Venice Italy.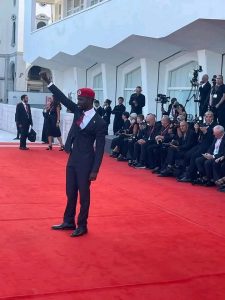 Kyagulanyi standing on a red carpet in Venice Italy is saluting the World at the 79th Film Festival. A documentary about Uganda was unveiled
The Film about Uganda, is a documentary detailing political governance in Uganda in the past five years.
"I was honoured to take part in the 79th World Film Festival in Venice, Italy.
Advertising

For the last 5 years, our struggle has been captured on camera and a documentary film was made to show to the world the true picture of what is happening in Uganda. I am humbled that this film was selected to  be among the top 20 films in the world to grace this festival.
I walked the red carpet with the world's top stars. I had almost forgotten how to be among stars .
I hope this film goes far to expose the true picture of Uganda's situation, something that the regime has been paying billions of tax payers' money to hide from the world'. Kyagulanyi stated.