COSASE Unearthed More Loot In Yet Another Government Entity
Uganda Property Holdings Proceeds Go To Individuals But Not To Government Coffers
Muwada Nkunyingi a member on Joel Ssenyonyi's  Parliament COSASE committee and Shadow Minister for Foreign Affairs, claims that the committee has unearthed another hair raising pilferage plot where the government of Uganda is losing billions to individual government officials.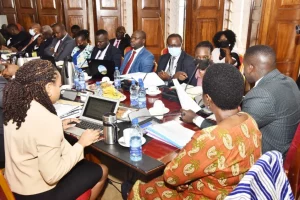 While the COSASE committee was in Mombasa,  Kenya doing its oversight work on Uganda Government properties managed by Uganda Property Holdings Ltd, as per the Auditor General's report, Nkunyinyi  reports that the Committee was astounded to learn that all the properties earn Uganda 294 billions in a year. " we learnt that 23 properties are in Mombasa, 4 properties are in London and 12 properties  are in Uganda totaling to 39 properties.
The Committee established that 50% of company shares are owned by Minister of Finance, Planning and Economic Development and another 50% are owned by  Minister of State in charge of Finance, Privatisation and Investment. Uganda property Holdings was established in 1998.
One property in London was attached by court over a private case against Mr. Museveni as a person. It is also appalling to learn that a mere affidavit drawn by Ugandan lawyers to defend Mr. Museveni, in the attached property matter, costed government 1.6 Billion. Uganda Property Holdings board of directors is appointed by minister of finance. Interestingly all properties were acquired by Uganda during Idi Amin's regime".
Advertising