Murder In Kalongo Town Council Agago District
Just Two Days After A Colourful Spiritual Blessed Ambrosoli Beatification, Murder Of Two Citizens Occured
Although, the army spokesperson Col. Kulayigye assured the country that there are no rebels in Uganda, the rampant criminal activities that the country is experiencing almost all around are a serious cause for alarm.
In Agago district, Kalongo town council, locals are gripped with fear for their lives after a gruesome murder of a business man one Joseph Komakech 52, on the night of 23.11.2022. Another young man Joel Opiyo 26, was also shot and succumbed to death this morning arising out of severe gunshots at the same place.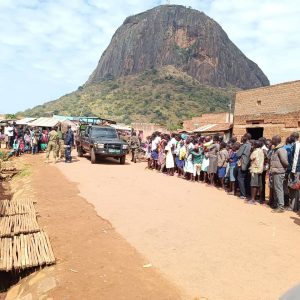 A press statement issued by ASP Ongom David Mudong PRO Aswa-River region yesterday, indicates that one person was killed on the night of 23.11.2022 by unknown assailants and another who was rushed to Dr. Ambrosoli Kalongo hospital has also succumbed to death today.
PRESS STATEMENT ON CRIMINAL ACTIVITIES OF MURDER BY SHOOTING AND AGGRAVATED ROBBERY.
Advertising

The Territorial Police of Agago District vide SD. REF: 17/23/11/2022 are tracking down unknown assailants in connection with criminal activities of Murder by shooting and aggravated robbery that took place on 23/11/2022 at around 2000hrs within Kalongo Town council market square in Agago District.
Brief facts obtained indicate that, on 23/11/2022 at around 2000hrs according to eye witnesses, unknown gun man dressed in civilian attire, a face mask and a head hood, walked into the shop of one Komakech Joseph aged 52 years (Deceased), started asking for money and in the process, he shot him six times on the back and the shoulder and also shot another victim one Opiyo Joel aged 26 years four times on the back and hips before fleeing from the scene with unspecified amount of money.
The victims were rushed to Kalongo Hospital where one Komakech unfortunately passed on and Opio left in a life threatening condition. The team of detectives and the SOCO are yet to document the scene and gather materials of evidential values to backup investigations.
We do condemn the cowardly acts of killing innocent civilians and we would like to assure the people of Kalongo to remain calm and cooperate with all the security components with relevant information that can be of importance to ensure that the culprits are apprehended and brought to book.
ASP ONGOM DAVID MUDONG PRO ASWA-RIVER
23/11/2022.