Beatification: Blessed Ambrosoli Joins Jildo Irwa And Daudi Okello
First Beatification Outside Rome Witnessed At Kalongo Gulu Archdiocese
Pope Declares July, 28th As Blessed Dr. Ambrosoli Day
Gulu Archdiocese last Sunday, for the first time outside Rome, witnessed the beatification of blessed Venerable Father Joseph Giuseppe Ambrosoli at Kalongo Agago district.
The occasion that was graced by the presence of the president of Uganda, was presided over by Pope Francis' Apostolic Nuncio to Uganda His Excellency Luigi Bianco.
Pope Francis has declared July, 28th as a day for the annual celebration of Blessed Fr. Doctor Giuseppe Ambrosoli life.
Advertising

Rev. Fr. Doctor Giuseppe was on November 20 beatified by Pope Francis at a ceremony held in Kalongo town council, Agago district.
Fr. Ambrosoli, a former member of the Comboni Missionaries of the Heart of Jesus, served as a doctor, surgeon, and philanthropist.
Fr. Ambrosoli was posted at Kalongo Catholic Parish on February 19, 1956 as a Parish priest and also ran a dispensary, the health facility he transformed.
Dr. Ambrosoli died on March 27, 1987 in Ngetta, the current Lira Diocese following a kidney complication.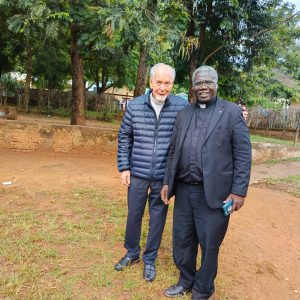 The beatification process for the late prelate commenced under Pope John Paul II on July 17, 1999 after the Congregation for the Causes of Saints issued no objections to the cause and titled Ambrosoli a Servant of God.
Pope Francis confirmed a miracle attributed to Fr. Ambrosoli following the miraculous healing of a woman who had developed sepsis at Matany Hospital after she developed a miscarriage 18 years after his death.
In July this year, the relics of Fr. Ambrosoli were brought back to Kalongo Catholic Parish from Rome in Italy in preparation for the beatification.
In the Catholic Church, beatification is the act of determining and proclaiming that a deceased person is one of ''the blessed,''
The beatification ceremony of Fr. Dr. Ambrosoli comes 20 years after Blessed Jildo Irwa and Daudi Okello, the two Martyrs of Paimol, also from Agago were beatified in 2002 by the late Pope John Paul II.
Born in 1923 on the 25th of July in Italy, Fr Ambrosoli was ordained a priest of the Congregation of the Missionaries of Sacred Heart of Jesus in 1951.
In 1955, he came to Uganda and was sent to Gulu Archdiocese at Kalongo Dispensary, the health facility he transformed.
The dispensary was started in a grass hut by Comboni Missionary Sister Eletta Mantiero in 1934.
Soon after, she started delivering babies and attending to medical and pediatric patients.
In 1957 Fr. Giuseppe began transforming the dispensary into a fully-fledged hospital. At that time the dispensary was treating many leprosy patients.
Today, the Kalongo Hospital, recently renamed the Dr. Ambrosoli Memorial Hospital, is a 350-bed facility that treats nearly 60,000 patients every year.
Another of Fr. Giuseppe's achievements was establishing the St. Mary's School of Midwifery in 1959.
Agago districtBeatificationFr. Doctor Giuseppe AmbrosoliKalongoPopeFrancis