Land Grabbing Is A Looming Catestrophe
Government And Army Officials Turned Themselves Into An Aristocracy Of Some Sort
Oweyagha-Afunaduula, in this article points out the problem of Uganda's land grabbing spree occasioned to the impoverished land owners especially in Buganda. He points out the dire likely repurcusions of this trend, which the perpetrators don't seem to fathom at the moment.
The Land Thieves of Uganda and the Disaster Waiting to Happen.
By Oweyegha-Afunaduula
17th June 2022
Advertising

When Government wanted to build Standard Gauge Railway the usual mind-poor, well-connected land grabbers rushed to grab the land in the vicinity of where the railway line is to pass.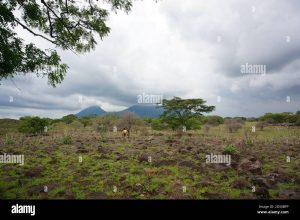 The reason was to rob public money through being compensated for the grabbed land. And now gold and copper have been confirmed to exist in Jinja area, and land thieves have strategised to do the same.
But tell me: Doesn't the President of Uganda, His Excellency Tibuhaburwa Museveni, know his men (in military and politics), who were very poor before he ascended to power, but are now stinkingly rich, and have used their ill-gotten money to buy the poor and needy off their land? Each of these people, well-connected to power, now own square miles or kilometres of land. Apparently, some of them do not have roots and, therefore, do not belong to any of the country's cultural groups that existed before the Uganda Constitution 1995.
This could be the major reason why they can never let the President retire from power even if he wanted to. It also explains why Uganda will never have peace and security well into the future. This is because the country has gone back to where South Africa, Kenya and Southern Rhodesia were when the Caucasian ethnic group grabbed the African land and condemned the poor to ecologically poor lands.
I foresee a vicious war between the invasive rich and the deprived poor of Uganda. A lot of blood will flow but the winners will emerge. Many rich are armed and own the State, which they have captured. It is no longer a public State composed by elected officials, but a Deep State composed of a few mainly closely related individuals subserved by others who have robbed everything previously owned by others, including the armory. They have been preparing for war, not against external enemies, but against Ugandans.
For God and My Country