General Katumba Wamala Disharged, Eulogises Daughter
Following an attempted assassination on the person of general Katumba Wamala on June 1, 2021 on Kisota road Kisaasi Ntinda in which his daughter Brenda Nantongo and driver Haruna Kayondo died on spot, general Katumba was rushed to a nearby Malcom Clinic to receive first aid so as to stop the profuse bleeding. He was later transferred to Medipal Hospital Kololo for advanced management.
According to Martin, the public relations officer at Medipal Hospital, "doctors at the facility, did all in their means to remove bullets that were lodged in the generals body, and added that his life was out of danger and was discharged accordingly".
General Katumba unreservedly thanked his body guard Mr. Okoyeiyoti, doctors at both Malkom Clinic Kisaasi and Medipal Hospital who worked tirelessly to save his life.
Wife and Katumba Eulogises Daughter
Advertising

General Katumba paid special tribute to Hakim Kasibante the bodaboda rider who played "the good Samaritan role to evacuate him from the scene of the attack to the clinic. Katumba in the same measure thanked his "Commander in Chief general Tibuhaburwa Museveni for the care through the numerous phone calls to find out how he was responding to treatment". He was discharged after a day of admission.
At a funeral service at general Katumba's home, wife Catherine surprised many mourners when she overcame emotions and stood firmly to eulogise her daughter despite the fact that she is faced with a double tragedy of mother and daughter's loss.
Catherine's mother passed on days before the attack on her husband that claimed her daughter who was traveling with her father to plan for the old woman's send off.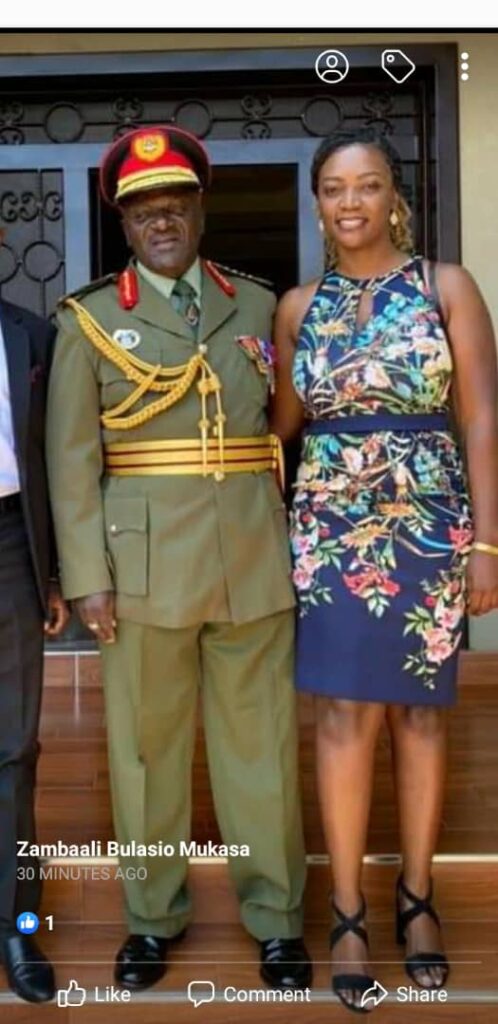 Brenda Nantongo recently graduated with a master's degree in public health from US. Her father asked her to return, she got a job at Bombo baracks where she was working until her prime life was cut short. "Brenda had unique ambitions and asked us to identify a good boxing trainer so that she could start boxing" her mother explained.
General Katumba talked about his daughter as a person with dedication both at place of work and at home. Her workmates can attest to this. "She was the person who would know what I should eat" general stressed. He explained that his daughter died because the assailants rained bullets in her position thinking that it is the seating position I took" It is a pity that her life was taken gruesomely like that". Brenda will be buried on Thursday in Kyaggwe district.
Meanwhile Haruna Kayondo, the driver who was killed together with Brenda will be laid to rest at Bulando in Bukomansimbi district. May the souls of the two deceased rest in eternal peace.