Museveni Goes For The 2nd Forced Leave In 53 Years
Uganda's 37 years At The Presidency Admits To Testing COVID-19 Reactive, Delegates Prime Minister To Take Over His Duties
Uganda Today: Mr. Yoweri Tibuhaburwa Kaguta Museveni who has been at the helm of the country's administration for the past 37 years since January 26, 1986, has been forced to momentarily relinquish power as president for the first in his 37 tenure.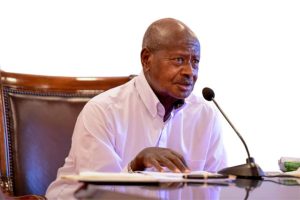 Whether this is a harbinger for the good of the country, only God knows. In a missive released by the president on June 08, 2023, Museveni takes time to narrate his ordeal.
The president has demysfied his own long held notion that he "is the only one with a vision to lead Uganda".
Below is Museveni's Statement
Advertising

Ugandans, especially the Bazzukulu.
Greetings. Congratulations on the Heroes' Day of tomorrow and Congratulations on Mwalimu Nyerere's Prayer Day (the 1st of June) and on Martyrs Day (the 3rd of June).
Yes this is Uganda!
The beautiful Secretary Bird found in Murchison National Park
The fast Ostrich found in Kidepo Valley National Park
The Crane also known as the Crested Crane, a National Bird in Uganda mainly found in swampy areas
Uganda is famous for bird watching and a habitat of 1090 bird species
+256 702 239 337 WhatsApp
Tel +256 772 500 640
*#VisitUganda*
*#Tulambule*
I congratulate the security forces for blocking all the terrorist activities and ensuring that the huge celebrations (like those of the 3rd of June), took place without incident in spite of the terrorists operating in Congo, South Sudan, Somalia, Mozambique, etc.
After the very useful interactive retreat in Kyenkwanzi, I was already immersed in the activities in Kampala. However, on Tuesday, I started experiencing mild flu-like symptoms. I ignored the feeling and had my meetings in Entebbe as well as working on my voluminous State of the Nation Address.
Yesterday morning, however, I noticed some mild flu-like symptoms in one of the nostrils (the right one). That is when I called my doctors to take samples and rule out Corona. They took three samples- one rapid and two PCRs. The rapid one was negative and so was one of the PCRs.
However, one of the PCRs was positive. Taking precautionary measures, I traveled to Kololo, with a separate car from Maama's car as the samples were taken back for reconfirmation. When I came back from Kololo, it was confirmed that I had Corona.
I have therefore, self-isolated at Nakasero and I have delegated my work for today and tomorrow (Heroes' Day in Luwero) to Prime Minister, Robinah Nabanjja.
As everybody knows, I have been very cautious with Corona. However, recently, I had to give up masks because they have been causing me allergic reactions in the eyes and also in the throat. Do you remember when I lost my voice twice during the elections? That is part of the allergy.
I have, therefore, got the second forced leave in the last 53 years, ever since 1971, when we started fighting Idi Amin. One other time, was when I had a problem of sinuses and I had to lie low for some days at Mweya.
By God's Grace all is well, and I am only experiencing mild symptoms. However, I always prefer to err on the side of caution and self-isolate for now.
God bless all of you.