Gay Activities Are Clandestinely Carried Out In Uganda
Despite Being Illegal Gay Activities Are A Force To Reckon With In Uganda's Entertainment Industry.
This content has been archived. It may no longer be relevant
Kampala – December 2016
Although open practicing of gay is still illegal in Uganda's penal code, the practice has a very strong foothold in the country, with remarkable manifestations among music promoters.
Among those on top of the list of music promoters of gay in the entertainment industry are Fashion star Ahumuza Brian also known as Abryanz, Mubiru Tadeo of extra Level Entertainment and Byekwaso Dozio.
These Known gay individuals risk a lot  and are liable to suffer stringent penalties when arraigned in courts of law and found guilty in Uganda.
Advertising

It should be remembered that in February 2014, president Museveni assented to the anti gay bill that was quashed shortly after, following the hue and cry that was raised from the donor countries and gay activists.
David Bahati Arguments
The sponsor of the bill, MP David Bahati, insisted homosexuality was a "behaviour that can be learned and can be unlearned".
"Homosexuality is just bad behaviour that should not be allowed in our society," he told the BBC's Newsday programme.
But gay rights activist in Uganda were "very scared" about the new bill.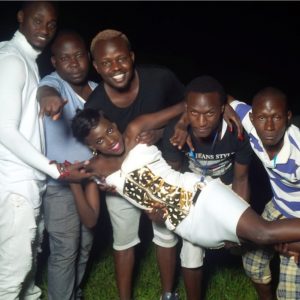 They decided to work covertly propagating their acts especially among the youth.
Although Mr Museveni had been apprehensive about signing the bill, he could not convince his party, religious groups and many of his citizens that it was not needed.
His signature was an apparent U-turn from a pledge to hold off signing the bill , pending advice from the US.
In a statement, Mr Museveni had earlier said: "I… encourage the US government to help us by working with our scientists to study whether, indeed, there are people who are born homosexual.
"When that is proved, we can review this legislation."
President Obama described it as "more than an affront, and a danger to, Uganda's gay community. Obama added that It would be a step backwards for all Ugandans."
He warned it could "complicate" Washington's relations with Uganda, which receives a reported $400m (£240m) in annual aid from the US.
Indeed with the kind of pressure that was mounted president Museveni was coerced to send the signed bill back to parliament which was later challenged in court and was found to have been passed without quorum.However the law criminalising gay activities has never been  expunged from the penal code of the country and whoever comes out to openly declare their orientation faces the wrath of the stringent law.