Major. Rtd John Kazoora, pieced up an intriguing book about political proceedings in Uganda during the early and later stages of president Tibuhaburwa rule.
Below is an excerpt of the book that won't leave your perception of political tidings the same.
Author: Major (Rtd) John B. Kazoora
PREVIEW
As Director of Political Affairs where I was to monitor and analyse all political events and report to the Director General (DG) Jim Muhwezi. ISO was almost paramilitary in its hierarchical nature, so while Jim Muhwezi was the DG at the rank of Lt. Col., it was assumed that at the rank of Major, I was next in Command. However, other directors who were at the rank of Captain and below thought otherwise. I had never, in my life, seen the kind of intrigue and under-hand methods of work in the pretext of secrecy as at ISO. You had to be a man of steel to work in such a callous environment.
Advertising

On March 12, 1991 I was called to Jim Muhwezi's office for what I thought would be the normal office briefs. I heard him communicating to Lt. Col. James Kazini who was heading the Military Police. When I stepped into his office, Jim Muhwezi told me that I was going to be arrested. He said I was accused of embezzling Shs12 million, and accused of terrorism. I was speechless. Despite the tensions and intrigue in the office, I could not have expected this. He said that I should not bother saying anything as I would explain myself in court.
He then handed me to Kazini, who took me to my residence under heavy escort. They searched my house top to bottom, and when they were done, Kazini told me to jump into the back of a pickup truck. Up until this point I had been too shocked to say much, but now my fury was rising, and I was determined not to be bowed by this man. I looked him in the eyes and told him that, as a senior army officer, my treatment was unacceptable. He continued insisting until I said, calmly but firmly "Kubiriiba Temanywa" – "My friend – you do not know what the future holds". It was a promise, not a threat.
Those words seemed to prick his conscience and he agreed that I should sit inside the pick-up. He even suggested that I wear my army uniform, reflecting my status. Twenty two years later, I bumped into Kazini at Imperial Hotel and he lamented to me his problems, and how the current government was decaying. I reminded him of what I had told him when he arrested me. Unfortunately, two weeks after that meeting, he was killed in mysterious circumstances.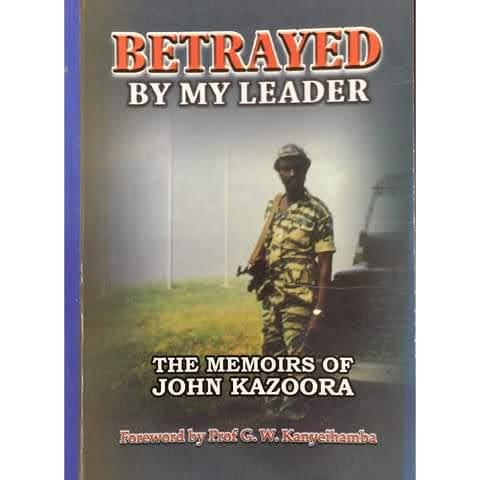 Jim Muhwezi and Stephen Kwiringira testified against me in court. Muhwezi's so-called tawdry evidence contained contradictions and no consistencies, and there were calls for his evidence to be subjected to scrutiny before being accepted by the trial court. The obvious weakness of the case was ignored, and on September 3, 1991, I was found "guilty" and sentenced to five years for embezzlement contrary to Section 257(a) of the Penal Code Act.
In the interim, Joy Ibaraah and Miria Matembe separately went to see the President to plea for my release. Museveni rejected their pleas, telling them that I had got into bad company with the likes of Julius Chihandae and that I had become spoilt. Bizarrely, he, however, offered to give my mother five exotic cows as some sort of token of recompense. My mother refused, saying that what she wanted was her son and not cows of which she had inherited many.
I remained undeterred in my quest to prove my innocence, and I swiftly appealed the sentence. To my joyful relief, on June 18, 1992 the High Court of Uganda quashed the sentence and ordered that I be compensated. I am still waiting for the compensation up to this day. I know now that certainly, there was no way Jim Muhwezi could have arrested me without Museveni's consent. The President had been somebody I would call any day or time even if he was abroad, a trusted comrade and master. We had been through so much together. I was utterly betrayed.
After I was acquitted, I wrote to the President to explain my predicament. He did not reply, so in essence I remained on katebe (undeployed) with a young family for four years (1992-1996). I am still waiting for his reply.
Politics of Parliament
This new Constitution was promulgated in October 1995 and provided, inter alia, for a new unicameral National Assembly of 276 members. I stood again in Kashari against Urban Tibamanya and Paulo Bakashabaruhanga. The security forces as usual tried their level best to see that I did not make it to Parliament but the people decided otherwise.
Advertisement
The National Assembly convened on July 7, the day after the new Cabinet was announced. We were 226 men and 50 women.
James Wapakhabulo had effectively chaired the Constituent Assembly. He had won the hearts of the delegates, many of whom had now joined the 6th Parliament and no wonder he was overwhelmingly voted in as Speaker.
Museveni's character is such that he doesn't want anybody to be popular except himself, so when he thought Wapakhabulo was becoming influential on the national political scene, he plotted his downfall.
Museveni's first strategy was to move Wapakhabulo from Speaker and appoint him to the post of the defunct National Political Commissar on the pretext that he was going to mobilise the entire country with a view to succeeding him.
A number of MPs and other stakeholders were suspicious and concerned about this development and advised against the move. I personally met Wapakhabulo at Kampala Club and pleaded with him not to accept, telling him it was a trap.
I said that the way I had observed Museveni over the years, he was certainly not preparing anyone to succeed him as he is always full of "enkwe". Unfortunately, Wapakhabulo did not see the plot, and he told me that as a Movement cadre he could be deployed anywhere.
Falling out with Museveni
Shockingly, when Museveni met Wapakhabulo in the NRM "Political" High Command, which included people like Kigongo, Bidandi Ssali, Amanya Mushega, Bukenya, Kategaya etc, Wapakhabulo revealed everything we had discussed in confidence including the "enkwe" statement and to say that Museveni was enraged is an understatement.
Immediately after the meeting, some sympathetic comrades in the NRM Political High Command called me and told me what had transpired in the meeting. They were very worried. One of them, fearing for my safety, advised me to flee the country.
But I was ready to accept the consequences because in my heart of hearts I knew that what I had said was true. After about two weeks and in a typically manic moment Museveni summoned me to Gulu via Ngome Ngime (RDC Mbarara). Parliament was in recess so I was busy in my constituency. I told Ngime that I needed to first accomplish my constituency tasks before heading to Gulu.
Being impatient, Museveni then sent Fred Kamugira (LC5 chairman) with the same summons. I was wondering why he was impatient and why we had to have the meeting in Gulu of all places and in an unprotected manner. The whole situation made me nervous. This was at the height of the Kony war and Museveni was overseeing the operation against Kony.
So I told one of my friends, Beatrice Kiraso, about the developments and that in case I died in any mysterious circumstances she should take care of my children.
I then travelled to Gulu by road and found that Museveni had flown to Adjumani that day, so I went to rest at the Acholi Inn. When he returned in the evening, he summoned me to his bunkers in Gulu barracks and I found a number of Generals and Army officers waiting for him. He met me first and he was cool and calm initially.
After exchanging pleasantries and wanting to know how Kashari was, he got down to business. His temper rising, he asked me what I had told Wapakhabulo and since I knew that he had got it from the horse's mouth, I admitted what I had said. I went further, explaining that Wapakhabulo had been a superb Speaker and that I doubted he would do the same as NPC. I said that I further doubted whether Ayume would match Wapakhabulo's antics in Parliament.
He told me that I should stop spoiling his politics as he knew Wapakhabulo better than me and I should stop interfering. I was relieved to return to Kampala safely. That episode injured my personal relationship with Wapakhabulo because he had certainly put me in trouble.
Political Manipulation
While Museveni was against our informal groupings, like the Discussion Group of the Bush war comrades and the YPA, he found it convenient and appropriate to use regional caucuses. In the 6th Parliament, the Great Ankole caucus was chaired by Eriya Kategaya and later Kahinda Otafiire. It comprised MPs from Ntungamo, Ibanda, Mbarara, Isingiro, Bushenyi and Kiruhura and it was perceived as a powerful caucus. In one of those meetings at Rwakitura, he lectured us on how the Ankole politicians had influence on national politics over time.
In one Ankole Caucus meeting, Winnie Karagwa Byanyima brought up the sensitive issue of his son Muhoozi Kainerugaba. She asked him why his son was recruiting boys to join the army. Museveni seemed to be shocked by the question. He said "Iwe Karagwe-mwatandika kutiina omwereere" meaning "You Karagwa you have started fearing toddlers". He then said "Muhoozi is not even LDU, (a member of the Local Defence Unit) – I just asked him to identify people of good character who can be absorbed in the army."
At this point Winnie Byanyima reminded him that the army had structures of recruitment and that he should respect them. Indeed years later these boys of good character are now Colonels and Brigadiers heading [the] Special Forces Guard (SFG).
Quitting the Movement
Because of my political engagement and my belief in the canons of good governance, it was clear that Museveni wanted me out of Parliament at any cost. He started looking for candidates to stand against me. He used Fred Kamugira to mobilise elders and opinion leaders in Kashari. About 300 of these were called to Rwakitura for a meeting which I was deliberately shut out of, despite me being the area MP. If they were sincere about their cause, why were they meeting without involving me?
I decided to gatecrash the meeting. When I got to the quarterguard at Rwakitura, I told the guards that I was there to attend a Kashari peoples meeting. Kamugira was shocked and embarrassed to see me arrive. He almost had a heart attack. Museveni too was shocked. However, he recovered quickly and took the opportunity to once again lambast me, calling Mugisha Muntu and myself puppies. He said it was Salim Saleh who had single handedly fought the war with him yet when he cautions Saleh he listens, unlike us who don't listen.
Museveni further said that he normally invites us to Rwakitura, gives us his tea only for us to return to Parliament and do the opposite. In my reply I told him I could not respond to such uncouth and unkempt language because of the cultured way I was brought up. I told him that I had principles and convictions which will never waver.
During the same meeting he campaigned for Kisanja (using dry banana leaves as his symbol). This was the time of the banana bacteria wilt disease and I cautioned him to avoid spreading this disease with his banana leaves. I had personally burnt Bisanja as a sign of disapproval to which Museveni was very angered.
I told him that even if he gets a million bisanjas, the time will come when he can no longer hold on to power. I also told him that the tea in Rwakitura was not from his personal pockets; but Parliament approves a budget for him to entertain his guests.
After the meeting, the other Kashari members went to take "his" tea but I just got into my car and left. On realising that I had not taken his tea, he said "Kazoora is so hot tempered that he has even refused to take my tea 'Okuzira'". As I drove out of Rwakitura, I knew that that was the end of me and the Movement. I immediately flew to South Africa and met Dr Kizza Besigye and gave him my unfleeting support for a new engagement in the political process of Uganda.
Retirement from the Army
I remained a Major until I retired from the Army in January 2005 having served for 23 years. I was retired with 27 other officers some of whom were promoted as a send-off package. The ceremony took place at the army general headquarters in Bombo. We received our discharge certificates from the Chief of the Defence Forces (CDF) Gen. Aronda Nyakairima.
I purposely refused to wear army uniform because I was not ready to salute a General who was once a Captain while I was a Major. Not that I have anything personal against Aronda, a personal friend – but it is the system/institution that I was defying.
For all my years of contribution and exploited youth, I was given a small plaque made of cheap wood (Kilundu) which I immediately threw away at the very spot in Mpererwe where I had been saved by cigarettes while going to the bush in 1982.
But at long last I had received my freedom, and I felt a weight had been lifted. We might have won the war but did we win the cause?