Winnie Byanyima Decries Racism
Laments About The Menacing Demeanor The Cops Exhibited As They Confronted Her During Her Workout Session In The Park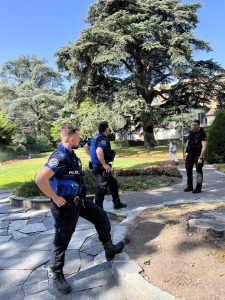 Uganda Today: "I've had enough of racist harassment. For 3 yrs I've lived in a building with this private park. Security constantly target me just for exercising in our park. Today he called the cops on me who rudely stopped my workout. The cops treated me like an intruder in my own space". Winnie Byanyima regrettably narrated on her Twitter handle.
Who is Winnie Byanyima?
Winifred Byanyima (born 13 January 1959), is a Ugandan aeronautical engineer, politician, human rights activist, feminist and diplomat. She is the executive director of UNAIDS, effective November 2019. She's a wife and mother of a son to Dr. Besigye Kifefe a Ugandan seasoned politician, former doctor to president of Uganda during the bush war that brought him to power, a 4 time contender to Uganda's presidency against the 38 years presidency of Tibuhaburwa Museveni regime.
Advertising