UNAB Advocates For Uganda's Copyright Law Review
Wants the Law Amendment So That They Can Transcribe Learners Material Into Braille Books Without Infringing On The Copyright Law
Following the  enactment of June 2013 United Nations Marrakesh World Intellectual Property Organisation Treaty (WIPO) to which Uganda is a signatory and ratified the same in April 2018, Uganda National Association of the Blind (UNAB) has now come out to intensify its advocacy so that the Marrakesh  treaty is fully domesticated.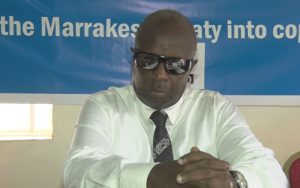 What Does The Marrakesh WIPO Treaty Stipulate?
The WIPO administered Marrakesh Treaty of June  2013, makes the production and international transfer adapted books for people with  blindness or visual impairments easier.  it does this by establishing and setting up limitations and exceptions to traditional copy right law in all member countries which Uganda Government is yet to actualise so that  braille books can be availed to Ugandan blind and visually impaired learners  without  infringement on the law.
UNAB Advocacy  For Domestication Of The Marrakesh Treaty
Advertising

At a press conference organised at their headquarters at Kireka Namugongo road, the chairman of Uganda National Association of the Blind  Mr. Francis Kinubi, in the presence of  the executive director  East African Centre for Disability and Law Policy miss Bradine Musenero, Beatrice Aguzu of National Council for Persons with Disability (NCPD),  Masindi District Association of the Blind (MADAB) Mr. Julius Hamya the executive director UNAB and Salongo Byekwaso Charles the programme Manager UNAB,  issued a press  release urging government to make reforms in the country's copyright law so that it is in tandem with the Marrakesh Treaty.
The campaign whose theme is code named "together we can alleviate book famine " through copyright law reform, is sponsored by the disability fund and implemented by UNAB. Mr. Kinubi noted that "according to the last census of  2016, Uganda Bureau of Statistics  (UBOS ), people with  visual disabilities  constitute 6.15% of the population". He stressed the fact that his association is working together with Uganda Registration Bureau, the Attorney General and the parliament of Uganda to ensure that reforms are expedited to enable learners acquire requisite braille books.
He expressed appreciation to the government for  protection and promotion of magnalised  people through policy and institutional frame work leading to commencing the campaign for the domestication of the Marrakesh Treaty through the review of copyright and neighbouring rights  act no 19 of 2006. He noted that without reform in the copyright law, "the current educational policy materials are not responsive to needs of the blind and learners with visual impairment".
UNAB has a fully fledged braille printing press and qualified  operators all sponsored by the Korean government