Twitter Poll Reveals Amin Is The Greatest
Museveni Trailed Amin At A Miserable 24% While Amin Got 62%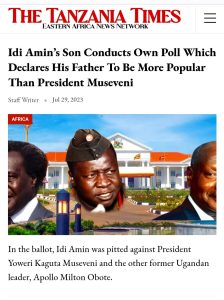 Uganda Today:POLL DECLARES IDI AMIN TO BE "GREATEST UGANDAN LEADER OF ALL TIME."
In this poll, President Idi Amin was pitted against Yoweri Kaguta Museveni and Milton Obote, two other Ugandan leaders.
However, when there is no way to pay bribes, or to engage in ballot stuffing, or transporting voters, or by simply declaring false results concocted in secret tally centers, those two can't win.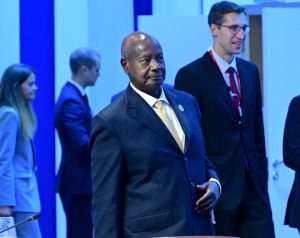 The X poll was carried out on 27th and 28th July 2023, and the question was simple: "Who is Uganda's Greatest Leader Of All Time?"
The result turned out as follows:
1 – Idi Amin 62%,
2 – Yoweri Museveni 24%, and
3 – Milton Obote last with only 13%.
Even after 50 years of the most malicious slander, the most colloquial and invective insults, the wildest accusations, the most poisonous propaganda, and the most heinous disinformation against His Excellency President Idi Amin Dada, the people of Uganda know their leader, and have always passed the truth from father to son, from mother to daughter, from grandparent to grandchildren, from generation to generation, and they know that he had a big heart for his country, and genuine big hopes for the people of Uganda in particular, and the people of Africa in general.
It is actually astounding that he never even said one word to defend himself against the plethora of false accusations formulated by the global smear campaign that was relentlessly orchestrated against him by the most professional White supremacist propagandists overseas, and their puppets in Africa. But even then they clearly failed to bury President Idi Amin's great development legacy in Uganda. The reason why he is also known as "The Father of the Ugandan Economy!"
Advertising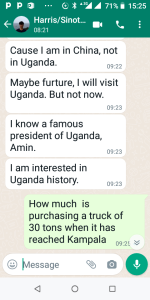 In fact, they lied to themselves and to the world that he wasn't popular, and then started believing their own lies. In reality, the late pan-African leader simply loved his country, his continent, and its peoples. And they loved him back to this day.
For the record, this is not the first time a Twitter poll has come out with this same result. Several others have been published before, and where people, especially abroad, were shocked to see this result from the people of Uganda themselves.
We therefore can add henceforth a new title to the late charismatic Ugandan leader as follows:
His Excellency Ssalongo AlHajji Doctor Field Marshal President Idi Amin Dada VC, DSO, MC, CBE, Greatest Of All Time (GOAT).