Sloam International Gives A Smile To The Blind In Uganda
Under The Auspices Of KOICA Uganda UNAB Benefited
KOICA Uganda, a branch of S. Korea international organisation that is giving support to different causes in Uganda, has once again lived to its billing by donating braille books, scholarships and other assortments of scholastic materials to UNAB.
Speaking at the occasion of handing over the equipment, at Uganda National Association of the Blind Kireka Namugongo road, Mr. Choi Dongic, the Chief Executive Officer Sloam International from South Korea, emphasized the need for the beneficiaries to take good care of the equipment so that they aid studying of blind people for more generations.
" I have over the years since 2018, donated various items to the blind in Uganda, including but not limited to computers, embossers, constructed an office block at UNAB  and hired  members of staff to ensure that these equipment reach schools in the country and are used properly.  This support is worth 1 billion Uganda shillings so far". Choi donated 8m cash in scholarships to various categories of students from primary and secondary schools in the country. Sloam international has donated over 20,000 braille books to Uganda National Association for the Blind.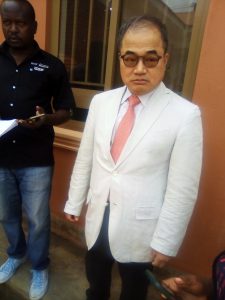 In attendance at the occasion were, Mr. Gilwon Lee, Team Leader Sloam Centre for the Blind South Korea, Mr. Byekwaso Charles, the project manager and focal person for blind scholarships at UNAB, Mr. Kinubi Francis, the Board Chairperson for UNAB, teachers and a host of beneficiary blind students.
Advertising