Scotland: Queen Of England Peacefully Dies At Her Palace
At 96 The Queen Changed Her Worlds
This afternoon of 8th September 2022, at the Queen's Palace, the Queen of England Elizabeth π was pronounced dead.
Queen of England: Photo by New Vision
"At 96 years and having reigned for 70 years, the Queen died peacefully at her palace at Balmoral Scotland". Her son Prince Charles announced.
Advertising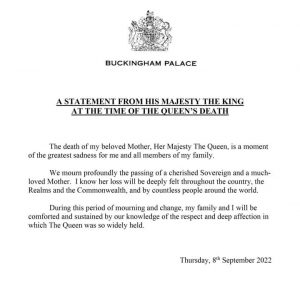 The Queen has had an industrious life with titular responsibilities as head of common wealth countries and the head of the Church of England among many other responsibilities.
During her reign, Queen Elizabeth visited Uganda twice in 1954 when she inaugurated Owen Falls Dam at Jinja to generate hydro electric power to foster Uganda's industrial development and in 2007 when  Queen Elizabeth presided over CHOGM conference in Kampala.
The Life Of Queen Of England: source Wikipedia
Elizabeth II was Queen of the United Kingdom from 6 February 1952 until her death on 8 September 2022. Her reign of 70 years and 214 days was the longest of any British monarch and the second-longest recorded of any monarch of a sovereign country. 
Wikipedia
Full name: 
Elizabeth Alexandra Mary Windsor
Dates knighted: 
1952, 1955, 1975, July 5, 1993, 2006
May her soul rest in peace.
To comment on this story, or share any news or pertinent information, please follow us on:
Facebook: Uganda Today
Twitter: @ugtodaynews
WhatsApp:+256 702 239 337
Email: ugandatodayedition@gmail.com