President's Son Flies Uganda Airlines To Kigali For 49th Birthday Celebrations
General Muhoozi Started Celebrating His Birthday With Country Wide Parties Since Last Year.
Uganda Today:𝐆𝐞𝐧eral 𝐊𝐚𝐢𝐧𝐞𝐫𝐮𝐠𝐚𝐛𝐚 𝐉𝐨𝐢𝐧𝐞𝐝 B𝐲 𝐌𝐢𝐧𝐢𝐬𝐭𝐞𝐫𝐬 𝐌𝐚𝐨, Jim 𝐌𝐮𝐡𝐰𝐞𝐳𝐢 F𝐨𝐫 𝐊𝐢𝐠𝐚𝐥𝐢 𝐁𝐢𝐫𝐭𝐡𝐝𝐚𝐲 𝐂𝐞𝐥𝐞𝐛𝐫𝐚𝐭𝐢𝐨𝐧𝐬
The Senior Presidential Advisor for Special Operations *Gen Muhoozi Kainerugaba arrived in Kigali on Sunday ahead of his birthday celebrations that will be hosted by Rwandan President Paul Kagame  on Monday, April 24.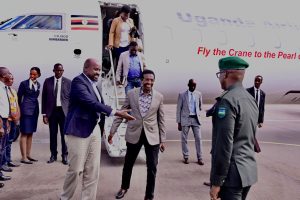 The General arrived at Kigali International Airport in the company of Justice and Constitution Affairs Minister Norbert Mao and Maj Gen Jim Muhwezi, the Minister of Security.
Other members of the General's delegation are Veteran Journalist Andrew Mwenda, Kitgum Woman MP Lillian Aber, his cousin Alexander Mukonzi Akandwanaho, businessman Geoffrey Kalugira, Eng. Joel Aita and Counsel Elison Karuhanga among others.
Gen Kainerugaba and his team were received by the Commander of the Rwandan Republican Guard Maj Gen Willy Rwagasana and the Rwanda Defence Forces Spokesman Brig Gen Ronald Rwivanga.
Advertising

On Monday, President Kagame will host the Ugandan General and his delegation for a dinner to mark his 49th birthday.
Despite this being about General Muhoozi Keinerugaba's birthday, more high-level talks to further improve the relations between Uganda and Rwanda are expected to take place.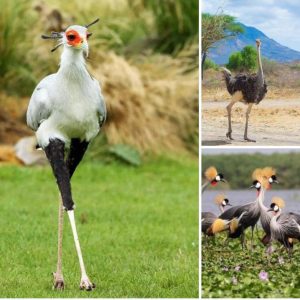 Last year, Gen Kainerugaba visited Rwanda three times with the initial visit to Kigali leading to the reopening of the Gatuna border which had been closed for three years. The Rwandan leader also flew to Kampala and attended a State Dinner on Gen MK's 48th birthday. President Kagame, who fought in the Uganda bush war of 1981-86, held several discussions with his Ugandan counterpart.
During the Rukundo Egumeho Thanksgiving Concert held on Wednesday, April 19 in Kabale, Gen Kainerugaba said that since the reopening of the Gatuna border, trade between Uganda and Rwanda has tremendously improved, reaching an all-time high of $20m in business transactions per month.
Before the closure, Gen MK said the annual trade was $200 million, which translated to $17m per month. During the period the border was closed the figure stood at $60,000, according to records from the Bank of Uganda.