Individuals Muhoozi Intends To Appoint Ministers Once He Becomes President
As Robert Kyagulanyi Ssentamu Plans To Commence Country Wide Mobilisation, Muhoozi Is Already Listing Individuals He Will Work With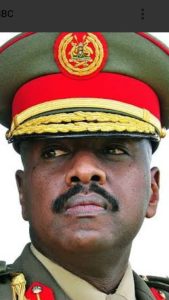 Uganda Today: Individuals Muhoozi Intends To Appoint Ministers once he becomes President.
A tentative list containing names of prominent persons Gen Muhoozi Kainerugaba intends to appoint as his ministers on becoming president of Uganda has leaked.
The leak follows increased excitement within his political pressure group, MK Project that his father, Gen. Yoweri Museveni will front him in 2026 presidential election. The optimism is based on current happenings that have seen Museveni allowing Muhoozi to make countrywide tours. He has so far addressed public rallies in Kabale, Teso, West Nile. He is scheduled to address more gatherings in other parts in the country.
Advertising

Sources in MK Project say that decisions on the sharing cabinet positions in Muhoozi's led cabinet is quitely discussed and the following have so far been shortlisted.
Nobert Mao
The Democratic Party chief is the leading candidate for the vice president slot. He hails from Acholi in Northern Uganda.
Margaret Muhanga
The current state minister for health, Margaret Muhanga is tentatively shortlisted as the would be minister for security. She originates from Tooro.
Kiryowa Kiwanuka
Lawyer Kiryowa Kiwanuka is ring fenced as the prime minister
Thomas Tayebwa
The current deputy speaker of parliament is lined up for next speaker. He hails from Ankole.
Gen. Don Nabasa
Borrowing a leaf from his father who has been appointing active military officers to cabinet, Muhoozi hopes to appoint Maj. Gen Don Nabasa as minister for defence
Moses Balyeku
The flamboyant Musoga politician is under consideration for the ministerial docket of Trade and cooperatives under Muhoozi presidency
Edwin Karugire
Muhoozi's brother in law, Edwin Karugire is the future attorney general under Muhoozi presidency.
Gen Kayihura
The former police chief, Gen Kale Kayihura will be appointed minister of agriculture
Andrew Mwenda
Having recieved mentorship from the late permanent secretary of finance Keith Muhakanizi, Andrew Mwenda is Muhoozi agreed candidate for minister of finance
Peter Ogwang
Peter Ogwanga, who is currently minister of state for sports, is destined to the cabinet docket of chief whip.
Frank Tumwebaze
Frank Tumwebaze has been agreed upon as the would be minister of foreign affairs
Gerald Siranda
The secretary general of DP, Gerald Siranda is the proposed minister for disaster preparedness.
Don Wanyama
The New Vision chief executive officer is within the Muhoozi camp earmarked for the slot of minister for presidency.
Gen. Leopold Kyanda
The current joint chief of UPDF, Maj. Gen. Leopold Kyanda will head ministry of internal affairs.
Lilian Aber
Kitgum woman MP, Lilian Aber has been concluded as the most suitable candidate for ministry of Gender
Mukasa Mbidde
Mukasa Mbidde is on his way to become Muhoozi's minister in charge of Luwero Triangle.
Gen. Moses Rwakitarate
The care free Maj. Gen. Moses Rwakitarate will head Veteran Affairs docket
Cedric  Babu
Capt Francis Babu's son, Shadrack Babu is heading to sports docket.
David Kabanda
Kasambya Mp is to take up ministry without portfolio