Volcano Coffee Finds U.S.Market For Uganda Coffee +256 772 992 621
Uniquely Operating A Coffee Roastery That Employs Dumb Baristas, Volcano Coffee's Business Model Is Worth Emulating
Uganda Today: Volcano Coffee with its unique business model among Coffee Roasters in Uganda, has, within a short time distinguished and positioned itself to beat competition for international recognition.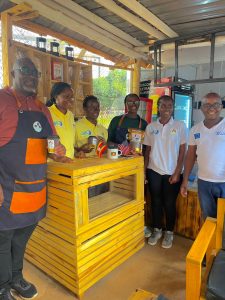 Proud  energetic young social entrepreneur proprietor Gerald Katabazi, of Volcano Coffee headquartered at Nakawa  adjacent to Total Energies, directly opposite Nakawa Business Park, employs smiling young dumb Barista Nashua Patience who welcomes coffee cup lovers with an irresistible smile that instantly puts the day's hustle and bustle off their heads.
Volcano Coffee proprietor, designed a unique coffee roasting business model entailing training dumb young ladies who serve as baristas. Notably among the over 10 dumb baristas is Nashua Patience and Karungi. Being a social entrepreneur, Mr. Katabazi looks out for these dumb young ladies from communities, he trains them as coffee baristas and employs them. Other coffee shops and restaurants in Kampala have scouted for these coffee barista girls from Volcano Coffee.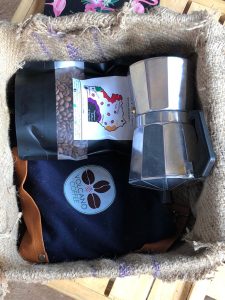 Volcano Coffee besides their cash cow coffee roasting business, operates a mini bar and a modern restaurant and take away at its Nakawa headquarters.
Advertising

How It Started?
Volcano coffee is a Ugandan brand name that was established in February, 2007 and was registered on 15 May, 2008 and since then it has been roasting, brewing and coffee trade. Volcano coffee is a coffee company national in scope, Ugandan by origin, and specialty grade by nature. Volcano coffee's main goal is to become the BEST IN UGANDA. Starting at Forest Mall , but was compelled to shift business premises to where they are now because some tenants at the Mall weren't comfortable with all day tantalizing coffee aroma.
Opening Coffee Roasting Shop In The U.S
Mr. Katabazi with his face registering glee and satisfaction typical of a prosperous business, asserts that "through purely using personal savings, without any bank loan, because I abhor loans, I have spurred my business to this level and I will soon open up a coffee shop and Roastery in U.S".
It should be noted that there are hundreds of Coffee Roasters in the country ever since the coffee industry was liberalised in 1991, but Volcano Coffee stands out because of its unique business approach.
Volcano Coffee Head Office
Uganda Coffee Industry Generally
Uganda is one of the world's major Robusta producers. Some Arabica is also grown in different highland areas of the country, most notably on the slopes of Mount Elgon on the border with Kenya and on the slopes of the Mount Rwenzori, popularly known as the 'mountains of the moon' on the border with the Democratic Republic of the Congo. Some Arabica coffee is also grown in the West Nile region in north western part of the country.Whilst the economy as a whole has expanded and improved year after year.  Coffee remains of vital importance, earning on average just short of 60% of annual export. It is estimated that as much as 20% of the entire population earn all or a large part of their cash income from coffee.
Following decades of total state control of the sector, the coffee industry was fully liberalised between 1991 and 1992 and is currently entirely in private hands. However, export quality control remains the responsibility of the Uganda Coffee Development Authority (UCDA) that grades, liquors and classifies all export shipments.
Production averaged almost 3.3 million bags in the six years from 1996 to 2001, with a peak of 4.2 million bags in 1996/7 (a total last seen in 1972) and a low of 2.0 million in 2005/6. The proportion of Arabica coffee fluctuates from around 8 to 10% of the total. Local consumption is limited at around 3% of production.
Robusta
While Arabica was introduced at the beginning of the 1900's, Robusta coffee is indigenous to the country, and has been a part of Ugandan life for centuries. The variety of wild Robusta coffee still grows today in Uganda's rain forests and is thought to be one of the rarest examples of naturally occurring coffee trees anywhere in the world.
Most Robusta is sun-dried although in recent years there have been modest attempts to reintroduce wet-processing. These interventions are on-going today, under the aegis of the UCDA. In the early 1960's the Uganda coffee industry produced close to 25,000 tonnes of good quality pulped and washed Robusta but this segment vanished entirely during the monopoly years, together with the plantation sector that supported it. It is estimated that today there are about 500,000 small farms of varying sizes that grow at least some coffee.
Robusta is native to Uganda and two types are grown namely the 'Nganda' and 'Erecta'. An extensive clonal replanting programme combines high yielding clones of both varieties that are vegetatively propagated and self sterile. The progenies are true to type and retain their parental characteristics – they are high yielding, mature faster and produce a bigger bean with improved liquor characteristics. They also tend to show resistance to Coffee Leaf Rust Disease.
The intrinsic quality of Uganda Robusta has always been excellent and the on-going replanting programme using this locally developed clonal material is likely to result in a general revival of the country's ability to supply good, neutral liquoring coffee. Robusta in Uganda is grown at relatively high altitudes, some as high as 1,500 metres, making these coffees especially attractive for the fast growing espresso industry. The bulk of the Robusta is however used in the production of instant coffees and as inexpensive fillers for blends.
Arabica
Most Arabica is processed with the use of hand pullers. However, attempts are under way to upgrade processing through the introduction of Eco-friendly integrated pulping systems that simultaneously remove both pulp and mucilage whilst using only small amounts of water, making them particularly suitable for use by smallholders.
Uganda also produces excellent wet-processed Arabica, with virtually all grown by villagers on small plots. Coffees marketed as 'Wugar' (Washed Uganda Arabica) or 'Drugar' (Dry Uganda Arabica) are grown on mountains bordering the Democratic Republic of Congo, along the Uganda's western border. The more demanded Bugisu is from the western slopes of Mount Elgon on the Kenya border. Bugisu is another typically winy, fruit-toned African coffee, usually a rougher version of Kenya but has excellent potential.
Coffee Growing in Uganda
In Uganda, smallholders inter crop their coffee trees with traditional food crops, usually utilizing the shade of banana trees and other shade trees. In these self sustaining conditions, coffee is left to grow naturally, flowering on average twice a year.
Mount Elgon lies in the eastern reaches of the country, straddling the Uganda – Kenya border. Judging by its enormous base it is thought that Mount Elgon was once the tallest mountain in Africa. The coffee shambas extend up and down the cliff faces, making use of natural water gullies and forest cover to extract moisture from the soil. The Sipi Falls are one of the great natural features of the Elgon region where this coffee originates, with small holder farms based between 1,600 and 1,900 metres. It is a steep and difficult terrain to traverse in the rainy seasons – often there are no roads, only dirt tracks that get washed away by the rains.
The Bagisu people who live on the mountain have become expert coffee farmers and have developed their own transportation methods – donkeys!
It is also worth noting that this is the only certified organic coffee from Uganda at this time and is also Utz Kapeh certified. This cup is so different from other East African coffees with: a full and heavy body, lower acidity than neighboring coffee origins, and rustic aspects. It is more reminiscent of the Indonesian cup character than the citric and acidic coffees from Kenya.