Uganda: A Country Where Politicians And Army Generals Have More Money Than Entrepreneurs
President Museveni, June This Years Pronounced That Those Following His Son Are After His Money.
Uganda Today: The soon to be 79 years Ugandan president of close to 40 years now, President Tibuhaburwa Museveni, in June this year astounded many when, he pronounced himself on a matter of concern about his son and army general Muhoozi Keinerugaba.
Muhoozi, in 2022, started a twitting campaign where he would post many political twits hinging on his ambitions to become Uganda's President after his father!.
In one of the twits that made his father apologise to Kenya, Muhoozi said that his "army would overrun and take over Nairobi in just two weeks". This was in response to some Twitter posts from some Kenyans who rubbished his earlier posts with innuendos of becoming president.
President Condoning His Son's Impunity
Unlike Dr. Besigye, who in 1999, as serving army officer, was courtmartialed after authoring a document indicating that President Museveni was preparing his son to take over after him,  general Muhoozi, has gone on with unprecedented impunity with his father and commander in chief looking on while clandestinely condoning the act. General Sejusa also threw a spanner in the wheel but he also faced the wrath of Museveni who ordered for his court-martial as well.
Advertising

The only action which Museveni took against his son following that infamous twit about Kenya, was to remove him from the post of commander land forces of the country's army and ironically at the same time, promoted him to the army rank of general and presidential advisor on security.
Teso is the second populous region after Buganda. With Among's influence in the region, the Muhoozi Teso tour and rally to which the president gave a silent nod, is seen as a launch pad for Muhoozi's strategic placement as an irremovable presidential candidate.
To hoodwink the country after his NRM supporters put him to task to tell them what was up with his son vis-a-vis his stand on running again in his perennial charade elections in 2026, President Museveni said,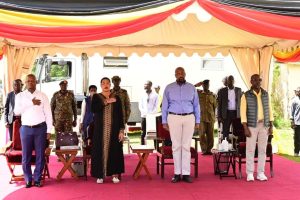 Uganda's President Yoweri Museveni unashamedly and unconvincingly explained that people who hang around his eldest son, General Muhoozi Kainerugaba, are in it for his money and their own interests.
"Many of those who lost in the 2021 general elections have joined MK Movement. This is partly due to the weakness of NRM. Some of the frustrated youth go to this group because they think there is hope."
Adding, "You remember when he celebrated his 48th birthday (in April 2022), there was some enthusiasm among some of the youths. When I analysed it, I could see that it was because of the weakness of our system.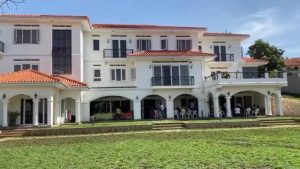 Under President Museveni, Uganda has arguably manifested itself as a country where politicians and army generals have more money  than entrepreneurs, something which is detrimental to the country's economic growth, because politicians and generals get hold of this money through corruption and graft thus splashing it around their inner cicles while the majority of citizens remain wallowing in abject poverty.