Successfully Separated Formerly Conjoined Twins Still At Mulago
9 Months Later Mulago Hospital Still Monitors Brenda And Gloria
On December 15, 2021, Hoima couple Moses Talemwa and Hellen Kugonza were blessed with a pair of twins. A blessing of twins in Ugandan cultures was met with mixed reactions when the couple and doctors at Hoima hospital realized that the Twins were conjoined.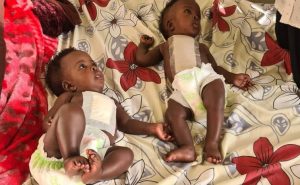 Parents of formerly conjoined twins were supported by Habitat for Humanity with a donation of a house.
Mulago National Specialised Referral Hospital is still monitoring  a set of formerly conjoined twins born in Hoima  who were separated in February. The babies were ready to be discharged but the doctors said that an assessment of their parents' home wasn't compatible with the delicate lives of the separated twins whose liver was joined.
With their previous experience from Kole district separated twins, who were returned in their home and one of them, months later succumbed to malaria in mind, Mulago doctors decided to continue monitoring the twins despite the modern house donation from Habitat for Humanity.
Dr. John Ssekabira, the deputy director Mulago hospital and head of pediatric surgeons team that did this work successfully, said the operation cost over UGX 100m.
Dr. Nasser Kakembo, the lead surgeon emphasised the need to keep the twins Brenda and Gloria strictly guarded against malaria more so because the twins were conjoined by the liver.
Dr. Byanyima the director Mulago Hospital was non committal on circumstances still making them keep the twins for 9 months  after successful operation bearing in mind that Habitat for Humanity donation of a modern habitable house which was the concern of Mulago doctors assessment of Hoima living environment.