Kawempe Educationist Celebrates 90 Years
Congratulations Mr. Nelson Isaac Mayombwe Mutajemerwa
On 15th September 2022, Mr. Nelson Isaac Mayombwe Mutajemerwa III, a resident of Kawempe Kampala Uganda, made 90 years.
Who is Nelson Isaac Mayombwe?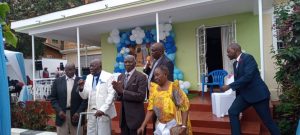 Mr. Nelson Isaac Mayombwe Mutajemerwa III, is a son among the 12 siblings of  Abigail Nampeera and Blasio Lule Mutajemerwa II of Kitajemerwa Kikyuusa Luweero district. Mayombwe was born on September 15, 1932 from a Buganda peasantry noblemen. He was born at Namulonge Maternity Centre. This was because, Blasio Lule (the father) had shifted from Kitajemerwa to Makenke at Gayaza, and the nearest maternity centre was at Namulonge.
Mayombwe is a grandson to Isaac Ssebbowa Mutajemerwa I, a former Judge and head of the royal guards (Abambowa) in Kabaka's palace Mengo.  Because of his position in Kabaka's palace, coupled by his impressive exploits in the second world war in Burma, the Kabaka gave Isaac Ssebbowa 2 square miles of land in Singo.
Advertising

Bearing in mind the distance from Kabaka's palace at Mengo, to Singo and the fact that Isaac Ssebowa's elder siblings namely William Bbalagadde Musitala and Philip Asane Mukuma were noblemen of the Kabaka, owning several square miles of land in Kisitala and Katikamu in Bulemeezi under their administrative jurisdiction respectively, Isaac Ssebbowa (grandfather to Nelson Mayombwe), was helped to look for a registered land owner in Bulemeezi  and made a barter trade of his Singo land in lieu of Kikyuusa Bulemeezi land where he settled with his brothers in the same area present day Luweero district. Mayombwe hails from the mighty Baganda Ngonge clan (otter). He is the oldest among the 5 surviving Blasio Lule's children.

Nelson Isaac Mayombwe the Educationist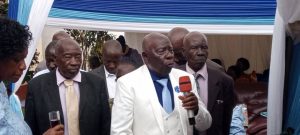 Young Mayombwe, a staunch Seventh Day Adventist faith follower, whose father Blasio Lule Mutajemerwa II had been convinced to convert to Seventh Day Adventist faith from Church of Uganda Anglican, by one of his brothers Enoch Ssemwanga,  started his primary school at Namungoona Primary School, Bugema Primary School, Aggrey Memorial Secondary and later Lubiri Senior Secondary School where he studied with former Vice President Edward Kiwanuka Ssekandi, Former Katikkiro of Buganda Dan Muliika and former Buganda Attorney Katende.
Why Is He Referred To As An Educationist?
Mr. Mayombwe got married in 1965, indeed in 2015, Mayombwe and his wife celebrated 50 years in marriage. In this marriage, God blessed the couple with children: Rebecca Mayombwe of UK, William Kiganda Mayombwe former Human Resource Commissioner Uganda Revenue Authority, Mrs. Roy Balambi Mayombwe Iga, Dr. Lutaaya Robert Mayombwe of UK, Henry Lule Mayombwe, Dr. Ivan Lule Mayombwe, Board Member Uganda National Planning Authority and Rhoda Nalule Nsereko Mayombwe. Mr. Mayombwe is referred to as an educationist simply because, he cherishes education to the letter and made it a point that he educates all his children to the level of attaining degrees, PHDs and doctorates.  Indeed when you visit Mr. Mayombwe, his living room is pasted with portraits of all his children's degree graduations.
Mayombwe's Career.
Mayombwe worked as Mulago Hospital telephone operator before moving on to be a co-founder member of Seventh Day Adventist business arm of Maranatha Printing Press where he worked as its managing director until he retired to dedicate his life to serving God.
Founder Of Masanafu SDA Church
A devout Seventh Day Christian, Mr. Mayombwe who served as a church elder at Makerere and later Nakulabye Kiwuunya SDA Churches, under several daunting obstacles he overcame by the will of God, founded Masanafu SDA Church where he still communes with his God aided by his son Dr. Ivan Lule, who makes it a point that he drives him to Masanafu Church every Sabbath from his Kawempe residence.
Mayombwe Conquered  COVID-19 And Survived Murder
Mr. Mayombwe, just like the few who live to celebrate their 90 years feat, has gone through several trials and tribulations in life, during Amin's time, he survived gun wielding burglars who attacked him at night  demanding for money. He survived this ordeal by a whisker when his 5 years old innocent son entered the bedroom where the very 'visitors' the son, had welcomed on a forceful entry into the house, were busy molesting his father and mother.  On seeing the young boy entering the bedroom yet he had innocently welcomed them in the living room, where they found him lonely watching television, the burglar who was going to touch the trigger to finish off Mayombwe because he actually didn't have the money they were demanding for, got a second thought and abandoned this murder.
In 2020, during the peak of COVID-19, Mr. Mayombwe then 88 years together with his wife, who didn't make it, were admitted at Mulago Hospital affected by acute symptoms of COVID-19. As fate would have it, the wife didn't beat COVID-19 but Mayombwe triumphantly beat it.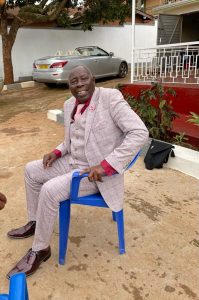 On September 18th, at a colouful ceremony at his Kawempe residence, organised by his children and graced by his Lordship the former Mayor of Entebbe Stephen Kabuye and  the Board Member National Planning Authority and son to Mr. Mayombwe (Dr. I van Lule), Mayombwe's 90th anniversary was celebrated with pomp and glamour.
Due to the solidarity of his children who remarkably view him as an asset, a professional home care nurse is  now perfectly taking care of an aspiring centurion Mayombwe. In consonance with all family, friends brethren and kindreds, Uganda Today in no small measure, wishes Mr. Mayombwe  many more years to come.
To comment on this story, or share any news or pertinent information, please follow us on:
Facebook: Uganda Today
Twitter: @ugtodaynews
WhatsApp:+256 702 239 337
Email: ugandatodayedition@gmail.com