Government Impunity Is A Time Bomb
Unwarranted Arrests Of Opposition Leaders And Agents, Have Taken Centre Stage On The Eve Of Elections
It's is apparent that the NRM is determined to get away with it whenever there's a by election anywhere in the country. Starting with by election of Masindi district woman member of Parliament, Kayunga district local council chairperson, Omoro constituency member of Parliament and the recent Soroti East member of Parliament, NRM, trampled on all the rules of the game and prevailed over the country's Independent Electoral Commission to declare their candidates as eventual winners.
Kayunga District Local Council 5 By Election 
There was unprecedented hue and cry after the electoral Commission declared Andrew Muwonge as the winner of the elections. This happened after arrests of almost all National Unity Platform's Harriet Nakwedde Kafeero's polling agents.
According to the Electoral Commission, Andrew Muwonge of NRM got 31,830 against that of Harriet Nakwedde's 31,380 valid votes. This caused a lot of disenchantment among the voters and many citizens who viewed this as Government's stance to usurp people's will.
Advertising

It is on record that during campaigns, president Museveni who doubles as the National Chairman of the NRM party and his NRM electoral commission chairman, had earlier during the campaigns made hair raising statements indicating a predetermined position of getting their candidate declared a winner at all costs.
" Even if you dance 24 hours for your oppositions candidate, you are wasting time, NRM has the last word on all elections" Museveni asserted.
Tanga Odoi,  the NRM electoral commission chairperson, echoing his boss's words didn't mince any words also, he said, "we didn't come to Kayunga to lose this election, we must go back with a win". President Museveni later came out with a statement to vindicate his party "I did not know that NRM actors had enough energy to cheat because most of the time they are asleep and allow the opposition to intimidate people, cheat, etc. Why only cheat in Kayunga? Why not in the few other areas where NUP won? Kayunga, Buganda and the whole of Uganda are politically NRM territory. Why? It is because the NRM has done more for those areas than anybody else, the internal weaknesses within NRM, notwithstanding… The opportunistic opposition will be wiped out," Museveni said.
Omoro County By Elections
Oryem Nyeko, a researcher on Uganda's human rights made observations as published here below. Following toes on heels Kayunga by elections, Omoro County by election took place and a replicate of what transpired in Kayunga was to be exhibited in Omoro arresting all NUP polling agents on the eve of the elections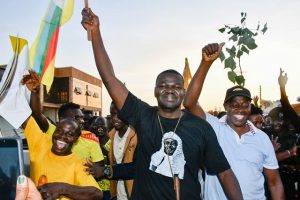 The Omoro parliamentary by-election was to fill the seat previously held by Jacob Oulanyah, the parliament speaker, following his death on March 22. The Electoral Commission declared Oulanyah's son, Andrew Ojok, of the ruling National Resistance Movement (NRM), the winner with 83.3 percent of the vote.
"The abuses in Omoro reflect the same pattern of abuse against the opposition, as during all of Uganda's recent elections, for which no one has been prosecuted," said Oryem Nyeko, Uganda researcher at Human Rights Watch. "The authorities need to take urgent measures to end these persistent and repressive abuses and ensure accountability."
Soroti East City By Elections.
Awadi Hamid Hashim, a political observer had this to say about the now characteristic style of opposition agents  arrests.
"You arrest a president of a registered political party (FDC) whose constitutional and statutory mandate or duty is to strive, wrestle or compete for power with other sister political parties (NRM) state party inclusive,the yardstick of competition ought to have been ideas, programs and manifestos,not who controls state power, institutions and access to public resources to use illegally in a manipulative manner to subdue your opponent (s).
This isn't sustainable in the era of democracy,rule of law, accountable leadership and good governance.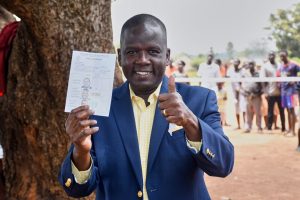 It is a big bomb waiting to explode ! If not reconsidered and reversed immediately.
Ugandans patience has thinned out already but they still have good intentions to protect their country from chaos or disaster from where they came from.
The situation as it stands, arguably rhymes with what one of the prominent singer's Ronald Mayinja hit ,"BIZZEEMU" I would suggest he plays another song titled ,"BITABBUKIDDE DDALA" out of hands or out of control.
The country is at a free fall nobody knows how or in which side it will land and the destruction or damage it will suffer.
I would suggest "NO MORE ELECTION " to start with the end of Soroti it should stop being business as usual Until Uganda is birthed again through a transition, ofcourse without Museveni in the picture, for he single-handedly manipulated Ugandans to get it to where we are.
For God and my country"
However the executive Director of Uganda Media Council, Ofwono Opondo  defends government and its ruling party with verve."It is sometimes hard to fight history especially when a wave of discontent with a sitting government is evident. The backlash could have been visited upon Ariko but turning to NRM and its machinery especially Mike Mukula, Peter Ogwang and close association with Speaker Anita Annet Among, the new kid on the bloc and master of political handiwork paid a bonus, and the opponents failed to frame Ariko as a stooge of 'outside forces'. FDC's last minute desperate antics to attract sympathy with claims that Attan had been poisoned or spreading false alarms about violence and bribery didn't succeed.