Bush War Hero General Elly Tumwine Changes His Worlds
General Tumwine Lost One Of His Eyes During The Bush War Struggle
General Elly Tumwine named number four according to the original NRA list, succumbed to yet to be disclosed illness  at Agha Khan hospital Nairobi today August 25, 2022.
Security and family source disclosed that the President had been informed about Tumwine's death and was due to announce the news to the nation.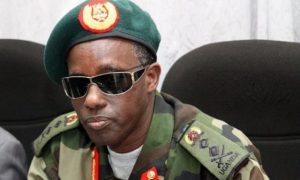 Biography And Career Profile
Born on April 12, 1954, in Burunga, Mbarara district, Tumwine attended Burunga Primary School, Mbarara High School and St. Henry's College Kitovu.
Advertising

He then joined Makerere University, where in 1977, he graduated with the degree of Bachelor of Arts in Fine Art together with the Diploma in Education.
In 1978, he fled Uganda and joined the Front for National Salvation (FRONASA) led by current Museveni to fight late President Idi Amin.
In 1981, Tumwine joined the National Resistance Army (NRA) and is credited with having fired the first shot that launched the guerilla war.
In 1984, Tumwine was named the NRA army commander and lost one of his eyes during the bush war. Three years later, Gen. Salim Saleh succeeded him.
Tumwine also served as Minister of State for Defence in 1989, Director General of the External Security Organization (ESO) from 1994 until 1996, Presidential Adviser from 1996 until 1998.
He was also the chairman of the High Command Appeals Committee from 1986 until 1999.
He was one of the longest serving Uganda Peoples Defence Forces (UPDF) Members of Parliament, having represented the army from 1986 until 2021, when he was defeated in polls.
In September 2005, he was promoted to the rank of general in the UPDF and named to chair the UPDF General Court Marshal.