Bobi Wine Brands Uganda Government Intolerant
Claims His Dubai Concert Was Cancelled At The Instigation Of UAE Uganda Embassy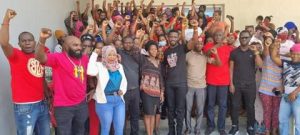 Robert Kyagulanyi Ssentamu, also known as Bobi Wine, over the weekend while in the rich oil city of Dubai, swam in troubled waters when he was held at the airport for over 12 hours and later on had his intended concert cancelled.
Kyagulanyi who kept on informing the world on his Twitter handle about the tidings in Dubai and the ordeal he was subjected to, said:
Today on what is supposed to be the Uganda's Independence day, together with fellow leaders and MPs, we visited our sisters who are being held in Al awir detention centre in Dubai pending their deportation. All they need is a flight ticket back home which costs about 200 USdollars (800,000 Ugshs).
In this one center alone are 600 African girls (200 Ugandans and 400 of other Nationalities). There are 21 detention centres in UAE alone.

We traveled to Dubai for a charity concert which was meant to raise funds to return these people home after the government of Uganda completely ignored them.

Advertising

Unfortunately, with the influence of the Ugandan Embassy in Dubai, this concert was cancelled on the last minute thereby crushing all their hopes.

Today we promised them that the efforts to return them home have not stopped. We shall stop at nothing to see our people returned home where they're loved and respected.
We continue to call upon all people of good will who can assist in this effort.