Why You Shouldn't Panic About Ebola
Expert's Explanation
Ministry of Health and that of Information Technology and National Guidance ought to put their act together so that the dreaded Ebola disease is eradicated from the country.
Besides the medical doctors treatment, pertinent information surrounding the disease should be disseminated to citizens in their local dialects.
Commendable Job from Dr. Tumwine
Credits to Dr. Daniel Tumwine;
Advertising

𝗪𝗵𝘆 𝘆𝗼𝘂 𝘀𝗵𝗼𝘂𝗹𝗱𝗻'𝘁 𝗼𝘃𝗲𝗿 𝗽𝗮𝗻𝗶𝗰 𝗼𝘃𝗲𝗿 𝗘𝗯𝗼𝗹𝗮 (𝘂𝗻𝗹𝗲𝘀𝘀 𝘆𝗼𝘂'𝗿𝗲 𝗮 𝗱𝗼𝗰, 𝗽𝗮𝘀𝘁𝗼𝗿, 𝗵𝗲𝗿𝗯𝗮𝗹𝗶𝘀𝘁 𝗼𝗿 𝘄𝗶𝘁𝗰𝗵𝗱𝗼𝗰𝘁𝗼𝗿)
Heard that Ebola is in Kampala?
Don't panic.
Unlike Covid-19, Ebola doesn't spread through air.
In fact you can interact with a person with Ebola and not get it…
How?
With Ebola, you strictly get it if you get in touch with the BODY FLUIDS of a person with ebola.
So if even a minuscule droplet of their vomiting, sweat, diarrhea, blood, saliva or semen.
Just a very  small drop is enough.
But then there are 3 phases of Ebola;
These 3 phases of Ebola are:
a) Asymptomatic phase.
b) Dry symptoms phase.
c) Wet symptom phase.
In the Asymptomatic phase, you will get Ebola but have no symptoms.
This can be anything from 2 days to 21 days.
So you can get your first symptoms of Ebola up to 21 after you got infected.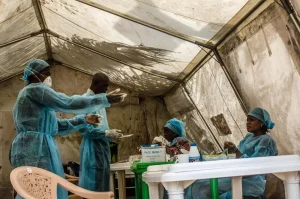 Because you have no symptoms in this phase, you will not vomit, not have diarrhea, not be bleeding etc. So YOU CANT SPREAD EBOLA.
You are not infectious.
People can interact with you and not catch Ebola.
Your colleagues will come to work with you, but not spread it to you.
In the Dry Symptoms phase, you start getting symptoms eg BAAAAD headache, Serious fever, joint pain, being weak, muscle ache, sore throat etc.
These symptoms are as if you have terrible malaria!
Many people are so weak in this phase and hence call in sick and stay home.
They are usually too weak or tired to leave home.
At this rate you may be infectious through your sweat, but the infecfiousness isn't too high.
This phase lasts about a week or so.
After a week of staying home, you may then start getting WET SYMPTOMS.
This is usually in the second week of you first getting symptoms.
These WET symptoms include;
Diarrhea
Vomiting
Bleeding through the mouth, gums, ears etc.
At this stage, you ARE EXTREMELY INFECTIOUS!!!!
Anyone who is near you, who takes care of you, even touches your clothes or cup will very likely get Ebola.
At this rate of course you are too weak to go to the market, bank, work etc.
Your relatives will probably take you to your pastor, the witchdoctor, herbalist, pharmacist and/or hospitals.
These pastors, herbalists, healt workers etc will also catch it.
In fact in the last big Ebola epidemic in West Africa in 2014, Sierra Leon lost 33% of its health workforce to Ebola.
Bankers less than 1%.
So the people at greatest risk of catching Ebola are not the bakers, bankers, dressmakers, gym guys etc, but the pastors, herbalists, doctors and nurses as well as family members who were there when you vomited, had diarrhea, bled etc.
So don't panic too much.
Just avoid us docs who are working with vomiting people; don't go to burials; don't visit hospitals; and when your loved one shows signs of Ebola, do not go around town.
Do not take your sick vomitting loved one everywhere.
Call for Ebola help.
Self isolate for 21 days.
Hope this helps!