PDM Funds Released
Ministry Of Finance Permanent Secretary Boasts Of Loophole Free System Applied
The Prime of Uganda Robinah  Nabbanja Musafiri, accompanied by the acting minister of Finance, Hon. Musasizi Henry, launched the release of government funds to different parishes in the country. The parish development model funds (PDM) is the latest strategy government developed in order to alleviate poverty from citizens.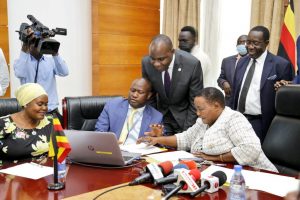 According to the perment Secretary Ministry of Finance planning and Economic Development, Ramadhan Ggoobi, the Prime Minister pressed the button to send the first tranche of PDM money directly to Ugandans at the base of economic pyramid. "No more middlemen of money. No leaky bucket". Ggoobi added.
Ggoobi Further Explained Dynamics of How It Will Work
Advertising

We've taken time to verify the PDM SACCOs to ensure we capitalise only those that are ready i.e. with registration with Registrar of Cooperatives; evidence of 1st GM held; and of training of members; and certified resolution appointing signatories to the bank accounts.
Government of Uganda is going to send an annual grant of Ushs. 1.05 trillion to PDM SACCOs for the sole purpose of lending to viable income generating activities in the Production, Processing, Marketing and Storage of agricultural products (Pillar 1).
We've developed a framework for mandatory audit of beneficiary PDM SACCOs to inform subsequent disbursements. No one will get away with diverting PDM money. No elite capture of PDM. The rest of the pillars (already funded in the budget) will support the 1st and 3rd pillars.
Like one great economist, Paul Samuelson, said every good cause is worth some inefficiency. PDM is certainly not a magic silver bullet. Neither will it be perfect. Improving lives of Ugandans who are at the lowest of the financial and economic pyramid is the goal.