Is Chameleon Purported Apology To The Boda Rider Enough?
Police Should Encourage The Assaulted Boda Rider Victim To Bring Up A Case
What is in public domain now, is that renowned East African musician Joseph Mayanja popularly known by his stage name Jose Chameleon, on November 17, 2022 assaulted and clobbered a boda boda rider as he was returning home.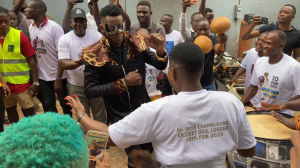 According to Jose Chameleon lately, and as per his communication team acknowledgement earlier last week when, a video recording showing Chameleon beating up a boda rider for allegedly scratching his car was released, both the former and the later accepted that this incident indeed happened.
On Monday 23, January at his press briefing about his upcoming Ggwanga Mujje concert due on February 10th 2023, held at Fenon Records in Industrial Area Kampala,  Chameleon took to the dais to apologise to the boda boda fraternity for the November ignoble and barbaric act of taking the law in his hands.
This gesture of being contrite on the part of Joseph Mayanja is  plausible but, bearing in mind the decades old series of misconduct he has involved himself in, including but not limited to the 2012 assault of Robert Karamagi that eventually resulted in his death, a deterrent and punitive action ought to be taken against Joseph Mayanja. In no small measure, this will not only be for the public common good, but it will also be good for Chameleon since, despite ambitions to aspire for leadership positions, he has so far, failed to discard lawlessness actions. For once, if he is convicted and sentenced, it is definite that he will reform.
Advertising