Ignore Muhoozi At Your Own Peril
All His Utterances Are As Ominous As Dark Gathering Clouds Ready To Power Unbearable Torrents
Uganda Today: Ignore Muhoozi At Your Own Peril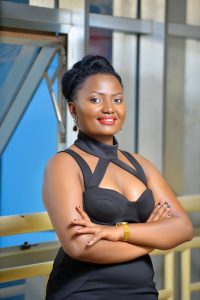 What seemed to many as a joke is starting to take shape and that is very worrying. The MK Movement led by its crusader, the first son, is not something that we should ignore. Of course, it seemed like a joke at first. It looked like a diversion. To some, the boy seemed to be so high on ebitokoza bwonko (brain pollutants) but I guess that was intentional from his side. To present himself as a seemingly "high" and "not serious" person is working for him. But you also know that drunk people are usually honest. We shouldn't overlook his ambitions because he's dead serious.  The thing called MK Movement should be killed before it lays eggs.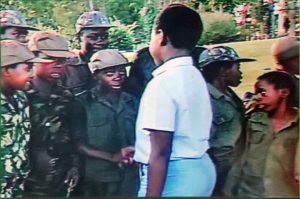 Muhoozi has shown us that the emperor is naked. Hitting his father's political party may be an exciting move. We love to see him expose them BUT HELL NO, we should not fall for that. The man who oversaw the torture of another man can not be trusted with the highest office in the country. The man who commanded for the picking of flesh from a writer's thighs using pliers is nothing but a cannibal. He will use the same pliers to pick the small flesh left of this country. The man who was a judge, jury and prosecutor in a sexual harassment case cannot be trusted with our women and girls. Sheebah's claims of sexual harassment were watered down by the first son. We all blamed the victim and the perpetrator got away with it. Two powerful potential suspects quickly jumped on the case even when the victim didn't name anyone. Shame! How many red flags do you need to realize that a narcissist is eyeing the presidency? Yes, I said it. A serving military officer keeps declaring his intentions to run for presidency and we somehow think that he is joking.
Refuse, resist, reject MK project. We keep laughing at his eloquence deficiency but we miss his arrogance when we concentrate on minor speech problems. We laugh when we see him read speeches from a small note. We make jokes about his limited vocabulary. I still maintain that all that is part of the show. Before you know it, that boy will be the President (I rebuke that) and he will come for everyone. He's a blood thirsty war monger. He claims that he will end corruption and unemployment. It's corruption that has filled his drinking bottle and there is no way he's going to stop the system that has given him a constant supply of milk. As for unemployment, he thinks that paying many desperate young folks to run fake twitter accounts and shower him praises is one way of creating jobs. The country needs to heal from the 37 years of Musevenism. The self-proclaimed revolutionary twitter and trigger-happy general isn't even a quarter of what our motherland deserves. He's taken the law into his hands several times yet he still claims that he will restore order. We must resist his un-witty cunningness.
Advertising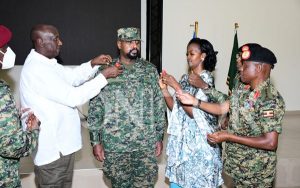 People who hide behind religion when vying for positions are usually dangerous. Muhoozi claims relations with Jesus. He will do anything in the name of Jesus. Ignore his relentless rants at your own peril. He will be worse than his forefathers if he ever gets the presidency. His intolerance is screaming from the many people he's blocked for questioning him. Kakwenza carries scars from the inhumane torture he underwent under the twitter general's command. He openly supports M23 rebels who are responsible for the death and displacement of thousands of civilians. He has decried of Ministers' long convoys that usually cause traffic. Good point, boy BUT when traffic was diverted during his 48th birthday celebrations, he never said anything. The double standards speak for themselves. As we clap when he hits his father's shelter with ballistic tweets, we shouldn't be diverted from what he is presenting. He is offering himself as the best alternative. We will be jumping from the frying pan into the fire if we let him. There is a dangerous dictator in the person of the first son. Uganda deserves better.
Can we trust our women and girls around him? Of course not. His sexism stinks from the tweets he makes about women. He objectifies women, even the married ones are not spared of his nauseating flirtatious posts. And he reduces them to cows. He fronts cows in every skirt war he starts. We should send him grazing. If he can't keep it in his pants, imagine what he will do when he gets POWER! Our daughters and mothers will be served to him whenever he so wishes. As we scroll and laugh at the next flirtatious post, remember that that undisciplined horny man is vying for presidency. He's sowing seeds of a ruthless movement disguised as Uganda's savior. The safety of our women and girls should concern us.
Muhoozi lacks creativity and innovativeness. He's copying projects like 'bulungi bwa nsi' to advance his campaign. His handlers should know better but how will they butter their bread if they challenge him to do better? I call upon Ugandans to rise up and say no. Museveni must go and so should his kin. Refuse, resist, reject Muhoozi. He should be arrested and jailed for treason.  If we keep seeing everything as a joke and unserious, we are seriously doomed. Wake up Uganda!
Ashaba Annah
The writer is a human rights activist.