When Korea India And Chinese Culture Descended On Kampala
Miso Restaurant Kololo Kampala Was The Venue For A Tripartite Cultural Display
Kampala Uganda Today: Splendid Asian culture ngulfed serene Kampala evening atmosphere at Miso Restaurant Kololo, when Korean Association of Uganda organised a tripartite cultural exhibition performance from South Korea, India and China.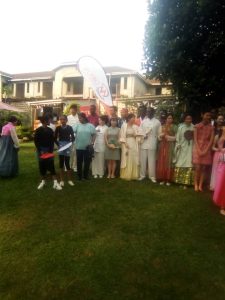 Mr. Kim Kyungsoo, the Chairperson of Korean Association of Uganda gave a welcome speech before the evening's activities were set to roll. He emphasised the need to appreciate cultural diversity so as to advance harmonious existence as human race brothers and sisters.
Beehive Of Activities
Starting at exactly 5:00PM, the genre of different cultural performances that included fashion show, children performance punctuated by some Ugandans who have mastered Chinese and Korean languages started to perform and entertained the over 200 guests of the evening event.
Interludes of music from the three countries played out intermittently with live performances.
Advertising

KOREA: KPOP Teams, Korean Traditional Clothes Parade Quartet performance,Trumpet performance.
CHINA:Chinese Embassy Special team performance INDIA:SONG, DANCE.
Amazing Chinese Paper Cutting Culture
Guests were treated to an amazing Chinese magical folded paper with designated points to cut and on unfolding them,  moulded shapes of flowers, Teddy bears and any other shape one may have designed to cut, is eventually formed. This was the highlight of the evening.
Gifts And Shopping Vouchers Won
All performers picked numbered coupons pegged with an array of gifts and Correfour shopping vouchers.
The grand prize of LG Appliance World flat screen television was won by a Korean female student who is in Uganda to study languages at Makerere University.
The managing director LG Appliance World Kampala proudly handed over the prize to the "over whelmed by joy" student.
Miso Restaurant is a Korean run business concern in Kampala offering Korean cusuines.