Polygamy Breeds Equilibrium
That's Why Even Leaders Embrace it
Recently Ugandans woke up the news of Ugandan Parliament Speaker Rt. Honourable Anita Annet Among introducing Budiope East member of Parliament Moses Magogo to her parents.
Mama Ssuubi one of Uganda's comic writers, shares her intrinsic opinion about polygamy.
The reading of today is taken from Isiah 4:1: In that day seven women will take hold of one man and say, "We will eat our own food and provide our own clothes; only let us be called by your name.
I no longer believe in absolutes. I don't believe that the world is black or white. There are so many greys in between. So in speaking against polygamy I understand that there are some women it might serve. Some who look at their husbands and say," mzee, I would still choose you,"  even if you don't attend family functions.
Advertising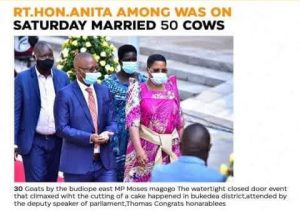 But, most women are tricked into polygamy. After fighting the other woman for years first wife wakes up to the realization that the other woman is not going any where. After being promised that "we are just raising the children but I will leave her for you any time" she wakes up to the realization that the first wife isn't going any where. By the time acceptance sets in, families have been established. Feelings run deep. It is just easier to leave things the way they are.