Nuwa Wamala Nyanzi Studio Inculcates Art Skills Into Students
Nyanzi Studio At NACCAU Inducts Students Into Art
NACCAU adjacent to Uganda National Cultural Centre (UNCC) arguably houses the country's biggest art and crafts gallery.
Founded by Owek. Nuwa Wamala Nyanzi some years back NACCAU currently boasts of a variety of any art piece one may require.
According to NACCAU Vice Chairperson Owek. Nuwa Wamala Nyanzi, who holds an arts studio at shop no 30, customers can order for art pieces of their design which can be made according to their specifications.
Conducting Kasenyi Secondary School arts students who were led by their teacher, Nyanzi instilled arts skills to the enthusiastic students.
Advertising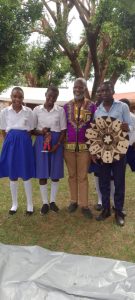 Students appreciated the knowledge they acquired and urged both parents and school administration to avail them with requisite materials so that they can also put their skill to practice.
NACCAU is a destination for people of all walks of life and is so popular to tourists. It is an open place that doesn't require entry fees.
Uganda today urges you not to miss a visit at NACCAU whenever you are in Kampala