Kizza Besigye Responds To Muhoozi
You can't Divert Us
Following Muhoozi Keinerugaba's tweet in which he expressed admiration to Dr Kizza Besigye whom he referred to as an "elder" from whom a "few things can be learnt" and poured disdain to Kyagulanyi whom he characteristically addresses as "Kabobi", Dr. Kizza Besigye has come out to down play Muhoozi's assertion and assured him of his resolve to remain united with Kyagulanyi and get a transition to people-rule.
Besigye's tweet:

The intention is obvious: to attract the attention of those you would not; make yourself what you're not & try to cause people to think of each other in ways they are not! Bottom line is we're United to end gun-rule and have TRANSITION to people-rule! Transition NOT succession!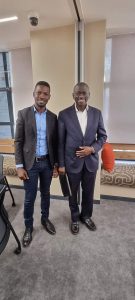 Kizza Besigye and Robert Kyagulanyi Ssentamu
Kizza Besigye is a pronounced nemesis of the ruling National Resistance Movement regime led by president Museveni since 2000 when he authored a document of dissent stipulating that the NRM had veered off the right track that had, in 1981,led him and many others to follow  president Tibuhaburwa Museveni to Luweero bushes to liberate the country.
Kizza Besigye was court marshaled for this action and the consequence for this was dismissal from the army, an action that prompted him to unsuccessfully challenge his erstwhile boss for presidency since the elections of 2001.
Advertising