You Cant Eat Your Cake And Have It Again
Overt Shemes That Were Employed By Government To Rig 2021 Elections Are Inadvertently Coming To The Fore
Social media is awash with hair raising correspondences from the purported hired hackers of opposition social media platform accounts and the hirer State House. The hackers are complaining about non payment for the services they rendered to hack into opposition social media accounts starting with that of Makerere University guild president but they never got paid.
Davis Lewis Rubongoya, the Secretary General of the leading opposition political Party National Unity Platform (NUP), on seeing these correspondences, had this to say oh his twitter handle
Just a reminder: during the 2021 election, many
twitter & facebook accounts were hacked and taken over! When we started uploading DR Forms on our website to expose the grand election theft, it was also taken down! Now, seems those who did the job were not paid! Uganda!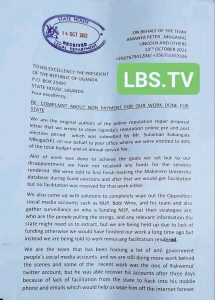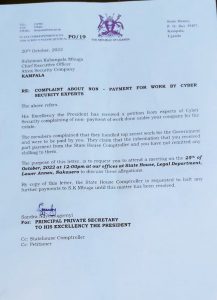 For Kakwenza Rukira Bashaija, the person whose name was mentioned in the complaint  correspondence scornfully just said,
"

Muhoozi crooks were hired to clone and or cause deletion of my social media accounts and other comrades according to their confession here but were not paid kekeke I wrote to twitter and Facebook upon return from prison and all the hacking was circumvented".
Advertising