Uganda MP Marries Two Wives At The Same Time
Godfrey Watenga Nabutanyi Made News
Former member of Parliament for Lutseshe County and his two wives from eastern Uganda, are the trio that made history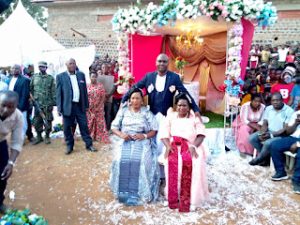 Recently in the eastern part of the country at Bubisikwa Lower Cell Ibaale Ward Kuushu Town Council in Bududa district, history was made when Mr. Godfrey Watenga Nabutanyi orgainised a traditional marriage ceremony at his uncle's home, when he concurrently married Nanzala Beatrice and Nekesa Christine.
Watenga exhibited a rare genre of an African man by circumventing the usual procedure of the groom visiting the bride's home to take dowry and ask for a hand of bride to ally in marriage.
Instead, at a well organised function, Wantenga invited both sides of two wives families to converge at his uncle's home where he handed over the dowry and there after proceeded to perform marriage rituals as dictated by his traditions.
At colourful ceremony which is now a household talk in Uganda and East Africa, both brides and Mr. Watenga were happy and satisfied by what they had done to the jubilation of residents.
Advertising

What we couldn't establish, with certainty is whether Watenga took on his wives for the first time, or they had been cohabiting for some time, with the products of procreation as is always the trend in African societies.
In Africa, many a couple even those who go for christian matrimonial marriages, just cleanse them after cohabiting.