Self Proclamation Of Middle Income Status Defeatism
World Bank Refuted Claims To The Chagrin Of Government
Ugandan president  announced to his country men that the country had reached the craved for standard of middle income status.
He took many by surprise, and this pronouncement set the ball rolling for serious debate attracting World Bank to jump into the fray.
Muhimbise  George analyses this touchy issue in this article below.
*Whether Uganda is a middle income or not
Advertising

The past couple of weeks, there has been a debate regarding whether Uganda has attained middle income status or not, with the government of Uganda giving conflicting figures as compared to the World Bank!
Of course, it is clear that for a country to be declared in a lower middle income status, it must maintain a threshold of 1035 US dollars as per Capita income for three years consecutively. So for Museveni to get excited when we have hit that threshold just once is like claiming to hold a degree the first day you enter university gates!
Perhaps this was good news, because if it's what Gen Museveni has always waited for, now he can pack and go because he has accomplished his mission!
The controversy about middle income did not surprise me since we have perennially lived in a country of controversies, what matters to me most is how does it connect to the ordinary Ugandan?
If you live in a country with the most fertile soils, the best climate and with the youngest and energetic population, but for some reason you are counting 70 dead bodies of people who have died due to starvation, yet on the other hand you have a first son who is on rampage splashing billions on endless birthday parties, one after the other, does the talk of middle income make sense?
If you have a country where the President (in 2005) ran a prosperity for all campaign in which each homestead was to earn 20 millions per year, and seventeen years later Bank of Uganda tells you that only one percent of the working population earn one million per month, equivalent to 12 millon per year, do you still waste time on Museveni's middle income debates?
If you have a country where 14 million people (about 30 percent of the population) have mental disorders, of course with a leader who tells them he is not their servant, a first lady who tells parents to carry food flasks when they have no food & a first son who tells the mentally ill population how their father is a mucwezi and a king, does middle income debate make sense to such a population?
If you have a country where 30 percent of the children below five years are stunted, with school dropout in primary at over 60 percent, does the middle income debate make sense?
If you have over 56 percent of the working population under vulnerable employment; where their rights are abused, their pay is less, they have no protection at work etc, but you have a government that has deliberately refused to fix minimum wage, does middle income talk make sense to you?
If you have a country where the wife to the President is a Minister of Education but 60.5 percent of pupils in primary schools across the country can't read and write, does the debate on middle income make sense to you?
If you have a country where majority of the young people have resorted to luck, other than exploiting their potentials, with many either in gambling and sports betting, others bribing their way to middle East in search of greener pastures from a desert or many flocking the synagogues around town looking for miracles, many of whom are even losing the little they have to the sharks-so called men of God, then know that your country is in trouble!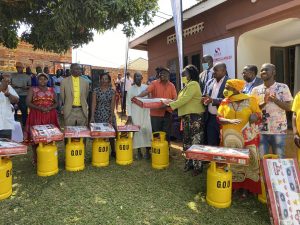 Whereas Gen Museveni and his henchmen could have reached the Middle income, majority of Ugandans are suffering and struggling to make ends meet. What he prides in as middle income is a time bomb waiting to explode!
It's high time Ugandans became the focus of development effort's rather than arguing on useless figures and statistics that don't add up!
Muhimbise George
muhimbiseg@gmail.com,+256 787 836 515
The author is a member of the Alliance for National Transformation