Museveni In East African Court
Judith Nabakooba Isn't The only Museveni's Dog
One time, Judith Nabakooba, the Minister of Lands, Housing and Urban Development, in the Cabinet of Uganda while defending government and in particular, president Museveni's actions, may have made an exaggerated statement when she said "I am president Museveni's dog", She isnt alone, there is another Ugandan who decided to bite through litigation on behalf of President Museveni.
Paul Bamutaze Sued A Kenyan Member Parliament On Behalf Of President Museveni
On Tuesday, September 20, 2022, the East African Court of Justice (EACJ) formally opened hearing of a lawsuit against Suna East MP Junet Mohammed.
In August 2021, comments made by the politician and his allies, including former prime minister Raila Odinga, that suggested Ugandan President Yoweri Museveni was acting as a tyrant were the subject of a lawsuit.
Advertising

Ugandan businessman Paul Bamutaze, who purportedly has close ties to Museveni's National Resistance Movement (NRM), which has held power for 37 years, filed the lawsuit.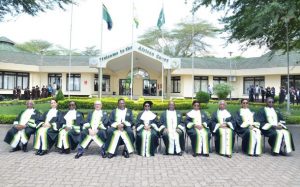 MPs Junet Mohamed (Suna East), Opiyo Wandayi (Ugunja), Caleb Amisi (Saboti), Jared Okelo, Antony Otieno, Fatuma Abdi, and Millie Odhiambo are among the lawmakers listed in the lawsuit (Suba South) as respondents.
In addition, the complaint included the Kenyan Attorney General's Office as a respondent.
The businessman prayed for legal action against the Orange Democratic Movement (ODM) officials who were identified with Mohamed for sabotaging Uganda's ruling party, the plaintiff's court documents indicate.
"Case against ODM MPs utterances against Yoweri Museveni and Muhoozi Kainerugaba kicked off today at the EACJ in Arusha! I wish to retaliate that Museveni is an elected Leader and not a dictator as stated by Junet Mohammed and others"! Paul Bamutaze stated.
"We shall protect  President Museveni, NRM party, William Ruto (Kenyan President) and the East African Community against such attacks that derail the advancement towards a Political Federation of the EAC!. As the EACJ commences hearing into my Matter against the ODM Party, we pray that justice is served," announced Bamutaze.
He also argued that their actions put to test the unity between Kenya and Uganda.
"You don't attack the person of the President of the Republic of Uganda. You don't attack the ruling political party because you want to make news.
"Otherwise, that can turn out to be a serious diplomatic blunder," stated Bamutaze at the time.
The fallout stemmed from then Deputy President William Ruto's aborted trip to Uganda and the subsequent uproar after the arrest of a foreign businessman linked to the trip.
ODM politicians questioned Ruto's relationship with Museveni. They also attacked Museveni's government claiming that it had a wanting reputation on the human rights front.
In its response, the NRM Secretary General, Todwong Richard, cautioned the MP and other ODM allies alleging that they insulted and disrespected Museveni, NRM and Uganda as a sovereign government and its people.
"Honourable Junet, please crosscheck your records so that next time you are better informed as a legislator. Your unfortunate utterances were indeed an indication of possible deep-rooted internal political misunderstandings within your country," read the NRM statement to Junet.
To comment on this story, or share any news or pertinent information, please follow us on:
Facebook: Uganda Today
Twitter: @ugtodaynews
WhatsApp:+256 702 239 337
Email: ugandatodayedition@gmail.com