Kakwenza Causes Cancellation Of NRM Munich Meeting
His Very Terse Letter To The Mayor Of Munich Caused A Stir
When Kakwenza Rukirabashaija, the PEN Pinter International Writer of Courage,  jumped court bail and traveled without a passport through Rwanda, taking sanctuaries in different countries until he reached his eventual destination in Germany, he took to his social media platforms, where he vowed to fight Uganda's Museveni led government purely using the might of the PEN.
Many took his vows as "a nine days wonder" or something that will fade away sooner than later, if you may want to term it so.
This group of thinkers must have been absolutely wrong as the afore going news from Germany proves. Kakwenza, some time this June, wrote a letter (reproduced) here below to the Mayor of Munich City.
Advertising

HOW KAKWENZA FOILED NRM DIASPORA CONVENTION IN MUNICH.
Open letter to the Lord Mayor of Munich City.
Dear Dieter Reiter,
My attention has been drawn to the 1-3rd July 2022 European National Resistance Movement (NRM) Diaspora Convention that is being organized and due to be hosted in the beautiful city of Munich which is under your jurisdiction as Lord Mayor.
This is to respectfully inform you that the above-mentioned Ugandan political party is led by Gen. Yoweri Kaguta Museveni who has been illegally in power for almost 40-years now. He is the most brutal dictator on earth and his NRM government is described by pogroms, imprisonment of critics, forced disappearances, constitutional amendments that are illegal, torture and among other barbaric methods which do not espouse civilization that Federal Republic of Germany subscribe to. For all the four decades, Ugandans have had a share of the most misanthropic brutal presidency since independence.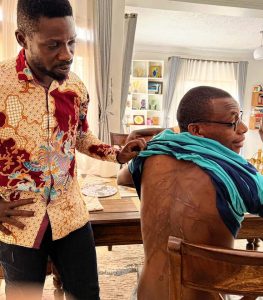 It is quite discombobulating to us living in exile and other people who are concerned about the despicable situation in Uganda, that while there is no freedom of expression, assembly and among other civil liberties, the chamchas of the brute NRM government who are always bankrolled to sanitize the evils of Gen. Yoweri Museveni through glorifying violence, are the same people who have been given Visas and welcomed in this beautiful country, Germany, where freedom of citizens is held in high regard and the laws that protect such liberties are undoubtedly inviolable because of strong and independent institutions.
In Uganda, being opposition or holding parallel views against the impunity of the NRM government is actually seen as terrorism, the opposition has no voice and as I am writing to you, there are thousands of Ugandans who are rotting in jail because they exercised their freedom of assembly to demonstrate against the rising prices of goods. Among the few are; Dr. Kizza Besigye, Honorable Doreen Nyanjura and Honorable Anna Adeke Ebaju.
Right now, Dr. Stella Nyanzi and I are enjoying the beautiful sanctuary of The Federal Republic of Germany and being taken care of by PEN-Germany under the ministry of culture as scholars on writers in exile program and it is through Kulturamt München that Dr. Stella Nyanzi was able to get a place of abode to stay in together with her children.
We were forcefully displaced from our beautiful country Uganda because of the harassment, torture, mutilation, and all the repression you can think of. The videos and pictures of our bodies are not pleasant to look at and we are currently suffering mental trauma after fleeing Uganda. We used our pens to mirror the impunity in our country and we were treated like missile wielding terrorists and we had to flee. While the dictator and his chamchas are encased and ensconced in the hell-holes making lives of others difficult, for us writers use our pens to cast light in such hell-holes for everyone to see the impunity, and such people do not want to be exposed as they orchestrate their misanthropic schemes. It is very absurd thus that the people responsible for our displacement have been provided foreign space here in Munich to come and sanitize the rogue regime of Gen. Yoweri Museveni yet it is their daily job to glorify violence and terror. We, exiled or unwanted citizens of Uganda of Uganda currently living in Munich, shall not take this with equanimity and shall look at failure to thwart the convention as compliance and a celebratory toast with the dictator and his confederate.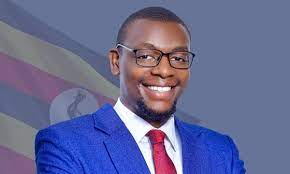 It is impossible for the citizens of Uganda to freely assemble and demonstrate our grievances, in our country, in conformity with the law, yet for them members of the ruling party–NRM–are always enjoying police and army protection as they glorify terror and violence in Uganda. On the contrary, the partisan army and police, on command of NRM leaders, are always on standby to shoot and brutalize anyone who gathers to air out grievances yet it is a constitutional mandate to assemble and demonstrate.
I humbly write to you, Lord Mayor, to swiftly act in your honorable capacity and stand up against these uncivilized people–glorifiers of violence, and cancel the contract for their meeting place in Allianz Bayern Munich Arena, Olympic Stadium and among others. In their attempt to use your beautiful city as a citadel of cleansing the brutal Ugandan president, your office will be seen as a defender of extrajudicial killings, torture, forced disappearances, disrespect of democracy, human rights and rule of law. You will have rubbed shoulders with the flagrant abusers of personal liberties and freedoms.
Yours truly,
Kakwenza Rukirabashaija
Note that the time he wrote the letter, KCCA' s Deputy Lord Mayor Doreen Nyajura and Hon. Anne Adeke were in Luzira prisons because they demonstrated against the incarceration of Dr. Kizza Besigye
Munich Authorities Reply
I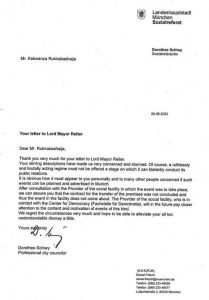 If you have news from your community and you would wish to share it with https://www.ugandatoday.co.ug please do not hesitate to email it to us on ugandatodayedition@gmail.com or WhatsApp No +256 702 239 337