Abangereza Baagoberedde Ennonno Nebakatagga Mukufa Kwa Kwiini
Baabikidde Enjuki Eziri Mu Lubiri E Buckingham
Okufa kwa Kwiini wa Bungereza Elizabeti kwolese ensi naddala ensi zaffe ezabaddugavu ezisinga okuba nti zawubisibwa n'okutapputa obubi ebyawandiikibwa mu kitabo ekitukuvu abazungu bwebaleeta enzikiriza yaabwe n'okusoma ekitabo  kya Bayibuli.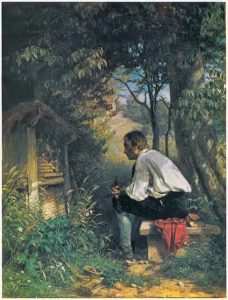 Abangereza Obulombolombo Ne Nnonno Byebagoberedde Ebyasinze Okwewunyisa.
Emikolo egy'obuwangwa egigenda mu maaso mu kukungubagira era n'okuziika Nnabakyala wa Bungereza Kwiini Zabeti Alexandria gyejjerezza obuwangwa bwa baddugavu. Emikolo gino egimu ku gyalabiddwaako mwemuli embuzi enjeru eyakunnumbye ng'ekulembedde abaserikale mu nguudo za London era Omulangira eyaridde engoma naavayo okugiramusaako. Mubufunze mu lulimi oluzungu kyategezeddwa nti;
"The Ritual involves a goat that leads 26 men of the 3rd Battalion of the Royal Welsh – supported by the Band of the Royal Welsh – marching from City Hall along Duke Street and into Cardiff Castle ahead of the proclamation of the new King in this case Charles III"
Advertising

Ate era mu Lubiri olukuku olwe Buckingham, John Chappel ne mukyala we Kath Chappel baasoose mu ketalo okubikira enjuki ez'ennonno ezikumirwa eyo mu kasaka akali mu Lubiri. Bano baasoose kulamiriza nti "Abakulu tubabikira abadde mukama wammwe Nnabakyala Kwiini Elizabeeti yafudde era Kati Mukama wammwe ye Kabaka Charles ow'okusatu nga alayiidde obutabayisa bubi, bwemutyo temusenguka wano  ne mu Bungereza wonna"
Bwebamaze ne babikka ku mizinga gye Njuki gino egiweera 200 engoye enzirugavu era basisiira okukungubaga ne njuki ezigambibwa nti okuva awo ziri mu ttulo okutuuka okuziika nga kuwedde.
Omukungu Chappel yategeezeza abamawulire nti guno omukolo negumala gulema okukolebwa awo enjuki mu Bungereza ziba zifuuse lufumo ate era n'Obwakabaka buyuuga.  Mu luzungu mu bufunze olupapula lw'amawulire lwagambye bweruti
"The royal beekeeper, John Chapple, told The Daily Mail that he informed the tens of thousands of bees residing in hives at Buckingham Palace and Clarence House that King Charles is their "new master" after Queen Elizabeth death on September 8.
The ritual is part of a tradition in which bees must be told of change in ownership; otherwise, they will no longer produce honey and will leave the hive and disappear for ever!