5 Confirmed Dead In Kajjansi Quarry
Kampala Metropolitan Police Spokes Person Confirmed
Police's Kampala Metropolitan Spokes Person Luke Oweyesigire has revealed that 5  dead bodies have been retrieved  from Namulanda Ward stone quarry in Kajjansi Town Council Wakiso district.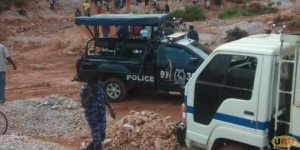 Police on arrival at the fateful site  Namulanda Ward Stone Quarry Kajjansi Town Council. Photo by URN

On 3rd September after a down pour, a truck lorry that was fetching stones from the quarry failed to ascend uphill and slid back into the quarry causing the sorounding soils to loosen and develop cracks hence suddenly falling into the quarry pit.
Advertising

Quarry workers on the site were buried by the soils. Residents made frantic efforts by applying rudimentary hand methods to dig up soils to try and rescue their colleagues to no tangible results until police deployed excavators.