Like their contemporaries  Uganda People's Defence Forces (UPDF), which is embarking on recruitment of staff in the army for all sections of their services, Uganda Prison Services is also doing the same.
Below are details stipulating qualification requirements and designated venues and their respective dates for the exercise. Qualified female and male candidates are encouraged to visit the venues for application verification.
UGANDA PRISONS SERVICE
The secretary Prisons council invites applications from suitably qualified
Ugandans to fill 1,152 vacancies for the post of recruit warders/wardresses
QUALIFICATIONS
All applicants must be: –
1) Ugandan Citizens aged 18-30 years (Age must be supported by the National Identity Card)
2) In possession of O' level certificates with at least 4 credits including one in English and a pass in Mathematics. (University graduates and Diploma holders should NOT apply)
3) Physically fit
4) Of good conduct with no criminal record and a letter of recommendation from L.C. I chairpersons of their villages endorsed by L.C II and L.C III chairpersons of Districts of Origin.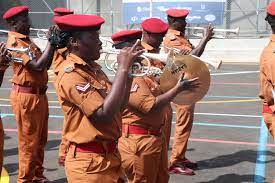 REQUIREMENTS
Handwritten applications addressed to the Secretary Prisons Council with the following on the scheduled date for interviews.; –
1) Three (03) photocopies of certificates/result slips
2) Three (03) photocopies of National Citizenship Identity Card.
3) Three (03) recent passport size photographs.
4) Original National Citizenship Identity Card
5) Original certificates/result slips
6) Ready to undergo both written and oral interviews
7) Ready to undergo Medical Examination as part of the interview to confirm suitability for physical training.
Interviews shall be conducted at the 16 Regional Prisons Headquarters and 2 sub regions (Kotido and Hoima).
Successful applicants should be ready to undergo a minimum of nine-months basic Prisons Officer's Training Course.
Effective appointment into the service is subject to successful completion of the training.
NOTE: Presentation of forged documents or impersonation is criminal and shall be prosecuted in Courts of Law.
All stages of the recruitment process are free of charge. Please do not pay any money to any one for any service during the recruitment exercise
Recruitment teams will be at the recruitment centres as shown below:
S/NO RECRUITMENT CENTRE INTERVIEW DATE
1. North Western (Arua) – ARUA CENTRAL POLICE GROUNDS
YUMBE,KOBOKO Monday, 13th June, 2022
ZOMBO, PAKWACH, NEBBI Tuesday, 14th June, 2022
MADI-OKOLLO,MOYO,MARACHA Wednesday, 15th June, 2022
OBONGI,TEREGO Thursday, 16th June, 2022
ARUA Friday, 17th June, 2022
2. Mid-Eastern (Soroti) – SOROTI SPORTS GROUNDS
KATAKWI, KAPELEBYONG, BUKEDEA Monday, 13th June, 2022
KUMI, KABERAMAIDO Tuesday, 14th June, 2022
KALAKI, NGORA, AMURIA Wednesday, 15th June, 2022
SERERE, SOROTI Thursday, 16th June, 2022
3. North Eastern( Moroto) – BOMA GROUNDS
MOROTO, NABILATUK, NAKAPIRIPIRIT, NAPAK,
AMUDAT Friday, 17th June, 2022
4. North Eastern ( Kotido) – BOMA GROUNDS
ABIM, KAABONG, KARENGA,KOTIDO Saturday, 18th June, 2022
5. Eastern (Mbale) – (MBALE MUNICIPAL STADIUM)
BUKWO, KAPCHORWA, BUSIA Monday, 13th June, 2022
KWEEN, TORORO, KIBUKU Tuesday, 14th June, 2022
BUTEBO, PALLISA, NAMISINDWA, BUDUDA Wednesday, 15th June, 2022
BULAMBULI, BUTALEJA, SIRONKO Thursday, 16th June, 2022
BUDAKA, MANAFWA, MBALE Friday, 17th June, 2022
6. South Eastern (Jinja) – BOMA GROUNDS
NAMAYINGO, BUYENDE, BUGIRI Monday, 13th June, 2022
NAMUTUMBA, KALIRO, IGANGA Tuesday, 14th June, 2022
LUUKA, MAYUGE, BUGWERI Wednesday, 15th June, 2022
KAMULI, JINJA Thursday, 16th June, 2022
7. East central (Mukono) – MUKONO DISTRICT HEADQUARTERS
MUKONO, BUIKWE, KAYUNGA, BUVUMA Friday, 17th June, 2022
8. Central & Kampala Extra (PRISONS SHOW GROUNDS LUZIRA)
WAKISO, KAMPALA Monday, 13th June, 2022
NAKASEKE, LUWEERO, NAKASONGOLA Wednesday, 15th June, 2022
BUTAMBALA, MPIGI, GOMBA Thursday, 16th June, 2022
9. Southern (Masaka) – SSAZA GROUNDS
MASAKA, KALANGALA, RAKAI, KYOTERA,
SSEMBABULE, LYANTONDE, KALUNGU,
LWENGO, BUKOMANSIMBI, MASAKA Friday, 17th June, 2022
10. South Western (Mbarara) -KAKYEKA STADIUM
IBANDA, KITAGWENDA, KAZO Monday, 13th June, 2022
KIRUHURA, BUHWEJU, MITOOMA Tuesday, 14th June, 2022
RUBIRIZI, BUSHENYI, SHEEMA Wednesday, 15th June, 2022
NTUNGAMO, ISINGIRO Thursday, 16th June, 2022
RWAMPARA, MBARARA Friday, 17th June, 2022
11. Western (Fort Portal) – BOMA GROUNDS
KASESE, BUNYANGABU Monday, 13th June, 2022
BUNDIBUGYO,NTOROKO Tuesday, 14th June, 2022
KYEGEGWA, KAMWENGE Wednesday, 15th June, 2022
KYENJOJO, KABAROLE Thursday, 16th June, 2022
12. Mid Central (Mubende) – MUBENDE DISTRICT HEADQUARTERS
KAGADI, KAKUMIRO, KASSANDA, KIBAALE, MITYANA, MUBENDE 17th June, 2022
13. Kigezi (Kabale)- KABALE STADIUM
KANUNGU, KISORO Monday, 13th June, 2022
RUBANDA, RUKUNGIRI Tuesday, 14th June, 2022
RUKIGA, KABALE Wednesday, 15th June, 2022
14. Mid-Northern (Lira) – MAYOR'S GARDENS
OTUKE, ALEBTONG Monday, 13th June, 2022
KWANIA, APAC Tuesday, 14th June, 2022
DOKOLO, AMOLATAR Wednesday, 15th June, 2022
KOLE, OYAM Thursday, 16th June, 2022
LIRA Friday, 17th June, 2022
15. Northern (Gulu) – KAUNDA GROUNDS
LAMWO, AGAGO, ADJUMANI Monday, 13th June, 2022
KITGUM, PADER Tuesday, 14th June, 2022
AMURU, NWOYA Wednesday, 15th June, 2022
OMORO, GULU Thursday, 16th June, 2022
16. Mid-Western (Masindi) – MASINDI STADIUM
KIRYANDONGO, MASINDI Friday, 17th June, 2022
17. Mid-Western (Hoima) – BOMA GROUNDS
BULIISA, HOIMA, KIBOGA, KIKUUBE, KYANKWANZI Friday, 17th June, 2022